Posted on
Projects rolling in West St George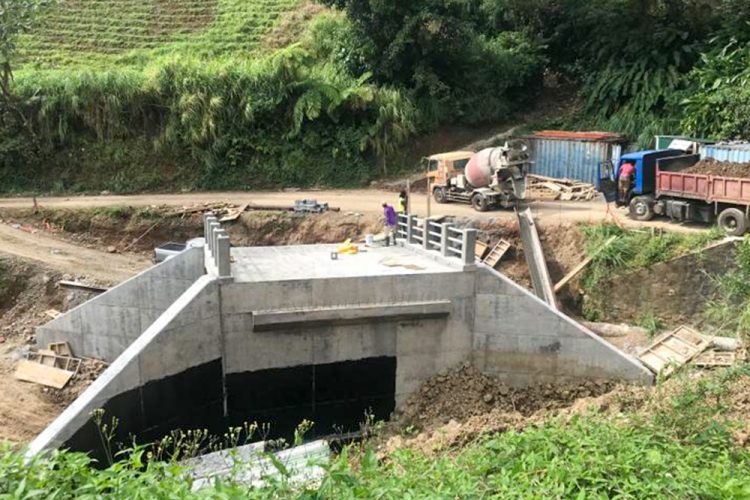 THE YEAR 2020 will be a bumper year for projects in the constituency of West St George. And if one is to judge from the activities so far for the year, then this announcement by the Parliamentary Representative for the area Cecil Mckie appears to be right on target.
Construction of the three main bridges across the Fenton Mountain bypass road is going full steam and all three are scheduled to be completed by mid year.
Work commenced in January 2020 on the first three 'pedestrian accesses for village enhancement' PAVE program in the Constituency with four foot ways being put down in Georgie Gutter, Fountain and Dalaway.
Eight other pathways will be laid during the year.
These projects will bring much welcomed relief to residents in these areas who have been inconvenienced by muddy and waterlogged pathways prior to the laying of these concrete walkways.
The Madam Luis (Belair) Playing Field, has played a critical role in the development of several outstanding cricketers and footballers in that community, some of whom have made it to National representation.
This is also the main field used in the West St.George Primary Schools Cricket Competition, which will begin in the middle of this month.
Through the efforts of the Parliamentary Representative, a washroom facility is being constructed at that field, and will be completed in time for the commencement of the 2020 Primary Schools Cricket Competition.
The fourth project of great significance in the constituency saw representative Mckie facilitating the hand over of EC$30,000.00 worth of musical instruments and equipment to the West St.George Secondary School. The items were made available by returning Arnos Vale resident, Ainsley Primus, who retired after working in the USA. A certified Audio Engineer and inactive veteran in the musical arena in New York, Primus made the items available to Mckie and the school from his collection accumulated over the years in New York.
Representative Mckie has established a support committee of Curtis King, Ezekiel "Sports" Horne-Williams and Primus to work along with music teacher, Jerome "Parry" Samuel and the school, in further developing the music program as part of the initiative to further build the profile of the school.