Posted on
Brighton Methodist School re-opens their fully refurbished library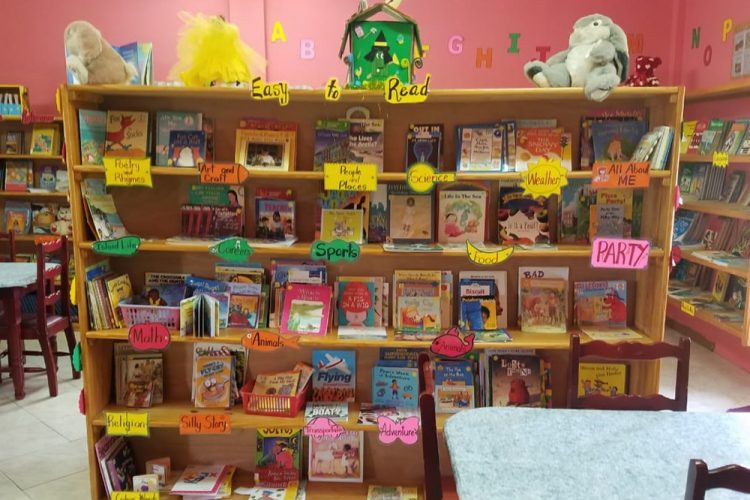 STUDENTS AT the Brighton Methodist School now have a fully refurbished library to help in the broadening of their minds.
And, at the brief re-openng ceremony last Tuesday, February 5, the project was hailed as a useful bonus to the development of the primary institution.
Bernadette Latchman, who has been principal at the school for the past two and half years, told SEARCHLIGHT she was not sure when the library initially stopped functioning, but is happy that the facility is now operational again.
The refurbishment was made possible with the help of international organisation, Hands Across the Seas, and several local businesses and individuals who donated books, including KFC, Diamond Grocery, the Mustique Charitable Trust, and a past principal.
"The library was used but not to borrow or lend books. Teachers used the library…but, the books were kind of outdated, so, when the Hands Across the Seas representative came, introduced us to the idea, we grabbed at it to really change the books and so on," the principal said.
She expressed gratitude to those institutions as well as teachers and parents who pitched in to help transform the space.
"Students were like 'wow'. It was a wow reaction, so they were excited to go in there and everybody wants to go in there…you can see their interest in taking up the books, because the books are colourful and exciting ,and some of the series of books, the children are familiar with the names…" she said.
The principal told SEARCHLIGHT that only 24 per cent of the children at the primary school were reading at their age level.
And she hopes that the library will help to improve those numbers.
Latchman said the main aim is to get children interested in reading and realise that reading can help to propel them in the right direction when it comes to their goals.
"The route of it all is that without reading, nothing else happens… if you really can't read at this young age," the principal stressed.
Among the new collection are books for teachers to engage students in research.
Latchman said that another benefit is that teachers can change the classroom routine by holding lessons in the newly refurbished space and integrate reading into other subject areas.
She said overall, the library is an added bonus to all the other good and exciting activities that take place at the Brighton Methodist School.
Latchman highlighted several extracurricular activities including drumming, Brownies, Bible club and football and cricket.
The principal praised her staff for the unwavering support in executing projects and activities for the school, which help to foster a "family relationship" at the institution, among each other and with parents, students and the community.