Posted on
VINLEC installs 114 solar panels at its Cane Hall Engineering Complex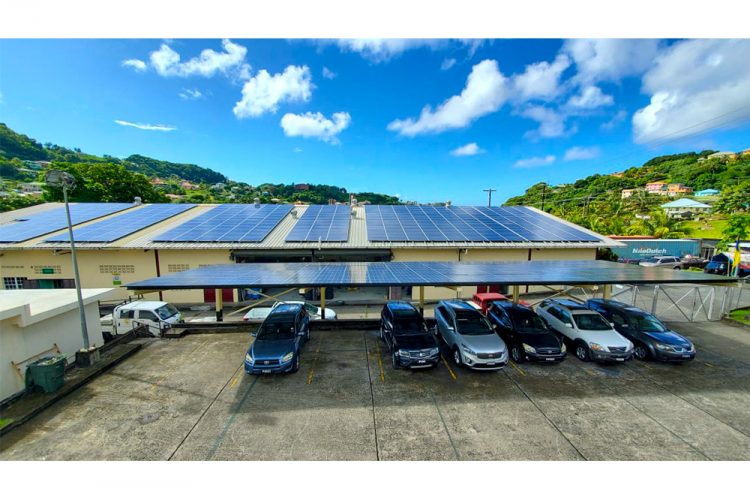 St Vincent Electricity Services Limited (VINLEC) continues to capitalise on opportunities to implement alternative energy solutions and efficient utilisation of resources for electricity generation.
The latest initiative is a car park canopy constructed at the Cane Hall Engineering Complex. The canopy, which has solar panels installed at the top of the structure, serves as a shaded area for vehicles while simultaneously converting the sun's energy into electricity. Solar panels were also installed on the roofs of the Transformer and Backup Generator sheds on the compound.
According to Engineer in Training, Raheem Hall, a total of 114 solar panels, each capable of producing 325 watts, were installed – 88 on the carport and 26 on the adjacent generator and transformer building.
The total (alternating current) AC power output of the system is 30 kilowatts, with a peak of 33 kilowatts.
This addition of solar panels has the capacity to produce 60,000 kilowatt- hours (units) per year. It is anticipated that this amount of power will reduce the use of fuel for the generation of electricity by approximately 3,272 imperial gallons annually. This installed capacity of solar can supply an estimated thirty-five average-sized homes in St. Vincent with electricity for twelve months. For reference, the average monthly consumption for a domestic customer is approximately 141 units monthly.
Hall says the system is a grid-tied solar system, which simply means that it is connected to VINLEC's electrical network. He noted that it was commissioned on Saturday December 28, 2019 and as of January 20 produced 3806 units. The average daily production up to January 20 was 163 units.
All designs, equipment procurement and installation for the PV aspect of project were done inhouse,
in accordance with the Company's mandate to build in-house capacity.
VINLEC's initial solar energy project was launched in February 2010 with the commissioning of the Cane Hall Engineering Complex solar power system. This project was expanded in 2013 with the energising of a system on the Stores Building at Cane Hall. The Company also has solar systems at the Lowmans Bay and Union Island Power Stations.
Work on the Mayreau Microgrid Solar Project is in the final phase. Upon its completion, the island will become the second Grenadine island to have a solar/ battery/diesel microgrid system; Union Island was the first, with the system there being commissioned in 2019.
In the future, VINLEC is planning to upgrade its first experimental solar system at the Cane Hall Engineering Complex to at least four times its present size. Recently purchased equipment, including a pyranometer and light sensor logger, will facilitate on-going work to determine the best location for further PV development.