Posted on
Book which celebrates the connection between Canada and the Caribbean launched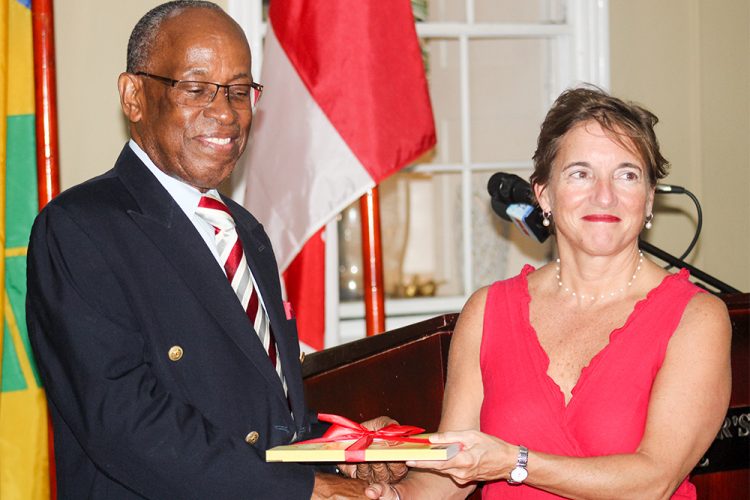 The book 'Maples Leaves and Caribbean Seas' shows the connection between Caribbean countries like St Vincent and the Grenadines (SVG) and Canada.
The book was launched on January 13 at the official residence of the Prime Minister in collaboration with the Canadian High Commission and the Government of SVG.
Addressing the gathering, Canadian High Commissioner Marie Legault said the book shows the historical linkages between the Caribbean and Canada. She said the countries of the Caribbean and Canada have trade ties that go as far back as 1700, when Canada sent saltfish and lumber to the region and traders would take molasses and rum back to Canada.
High Commissioner Legault said also that Canada has contributed to many initiatives in the region in relation to banking, security, education and employment, while there is also a strong human connection between the countries.
The High Commissioner added that the book identifies persons who have contributed to the connection between the countries.
'Maples Leaves and Caribbean Seas' was written in celebration of Canada's 150th anniversary of confederation and of its longstanding relationship with the Caribbean.
It is described as, "a tribute to that rich part of our diversity that has been shaped by our Barbadian and Eastern Caribbean friends over the years."
Speaking at the launch, Minister of Foreign Affairs Sir Louis Straker said it is good that SVG can join with Canada to celebrate their 150th anniversary of confederation.
"We have had a long and enjoyable relationship with Canada. That relationship today is as strong as ever," said Straker.
Sir Louis said the relationship between the two countries is important as we can learn from a country that is older than ours, while Canada has contributed to every sector in SVG.
The book is available online and may be downloaded free of charge.