Posted on
West Kingstown residents oppose relocation of asphalt, concrete batching plants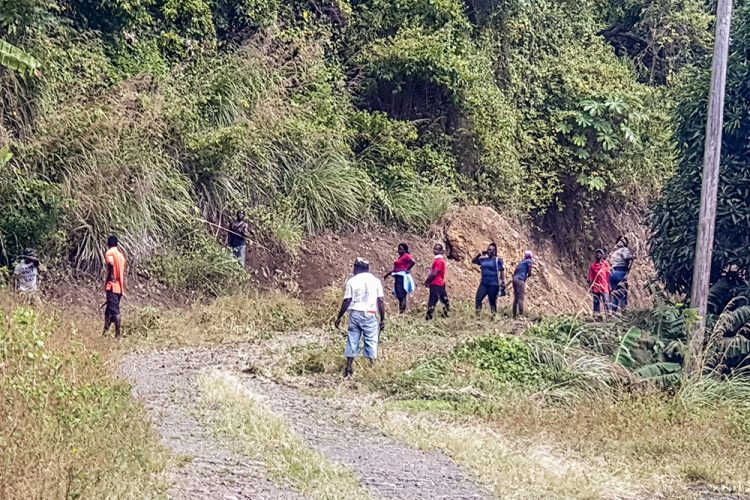 A petition has been signed by several residents of West Kingstown protesting the government's decision to place asphalt and concrete batching plants in the area.
"We, the residents of West Kingstown, observed that construction work has begun on what we are told will be an asphalt plant and a concrete batching plant in Gibson Corner.
"By this letter/petition, we are bringing to your attention the following: We consider this action highly insensitive, high-handed and grossly disrespectful, to the hardworking and peace-loving residents of West Kingstown. We also think that it is inconsiderate of your institution, as this totally disregards the health risks associated with these plants," the petition, dated January 13, 2020, reads.
The decision to place the plants in the Gibson Corner area after residents of Yambou rejected the same plants with a similar petition in June 2019, has left some residents furious.
The plants are currently located at the Argyle International Airport (AIA), and the chosen location is creating concerns for residents of West Kingstown as plans are far advanced to place the plants at Gibson Corner, in an area where soil erosion forced the evacuation of residents a few years ago.
The petition has been forwarded to the Ministry of Transport and Works and BRAGSA.
It further reads, "You may not be aware that there are elderly residents and children in West Kingstown who suffer from ailments like asthma. We do not have to alert you as to the effects and medical issues that such a plant can have. Our area is not a dumping ground, as in June the residents of Yambou rejected these plants.
"The lands near to and around this plant will have no agricultural or residential value, as no one will want to build a home nor plant crops near to it. You have ignored the fact that there will be several homes in close proximity to these plants. There is also a nursing home in the area, while the children of some of the residents already suffer from asthma and breathing problems."
Several residents say they had no idea that the plants were being placed in the area and no form of consultation was done with homeowners. The road leading to the area is already being cleared.
Another part of the petition reads, "Your action has been done without dialogue/consultation with any of our residents. Would you place your family and those of your loved ones in such a situation?
What you do not like for yourself you must not hand out to others whom you believe are below you.
"We emphatically state here that we resent your actions. We are completely against your placing this plant in our area, and we ask that you immediately cease construction and take your plants to some other area where people do not reside."
According to an online publication, the complex chemical composition of asphalt makes it difficult to identify the specific component (s) responsible for adverse health effects observed in exposed workers.
"Known carcinogens have been found in asphalt fumes generated at worksites. Observations of acute irritation in workers from airborne and dermal exposures to asphalt fumes and aerosols and the potential for chronic health effects, including cancer, warrant continued diligence in the control of exposures," the website said.
It was also noted that the primary emission sources associated with Hot Mix Asphalt (HMA) production are the dryers, hot bins, and mixers, which emit particulate matter (PM) and a variety of gaseous pollutants.
Other emission sources found at HMA plants include storage silos, which temporarily hold the HMA; truck load-out operations, in which the HMA is loaded into trucks for hauling to the job site;
liquid asphalt storage tanks; hot oil heaters, which are used to heat the asphalt storage tanks; and yard emissions, which consist of fugitive emissions from the HMA in truck beds.
When contacted on Monday, permanent secretary in the Ministry of Transports and Works Hudson Nedd was in a meeting and did not return SEARCHLIGHT's calls. Calls to Minister of Transport and Works Julian Francis' cell phone went unanswered.
West Kingstown Parliamentary Representative Daniel Cummings said he was looking into the issue and would comment when he has more information.