Posted on
Vincentians are very kind and welcoming, says PCV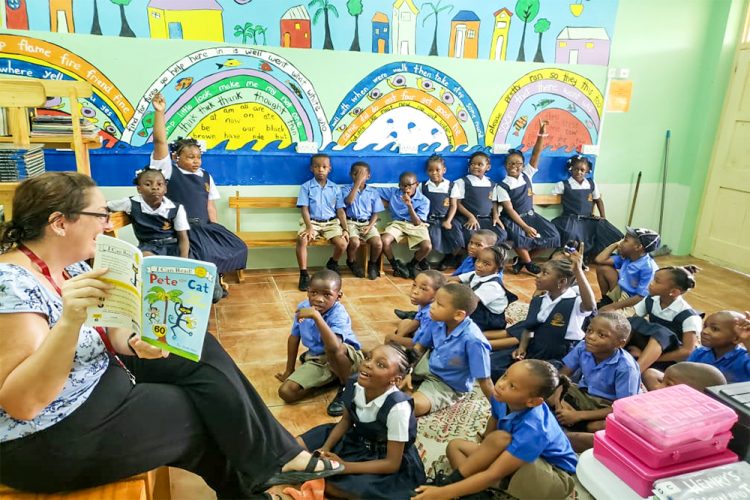 by Brooke Dunlap
Jessica Pearson is a Peace Corps Volunteer (PCV) teaching at Lauders Primary School. She arrived in St Vincent last August with a new group of Peace Corps Volunteers who will spend the next two years teaching on the island.
Jessica was born in Natchez, Mississippi in the United States (US), but since her father was in the United States Coast Guard, she moved a lot. "I went to seven different schools in 13 years. After high school, I spent 15 years in Missouri." She lived in Mobile, Alabama for three years during high school and moved back there after college. That's where she's been living for the past five years.
She joined the Peace Corps because she had always been drawn to a life of service.
"I had always wanted to join, but started a family early in life." Now that her son has left home, she was able to follow her dreams.
Before coming to the island, she didn't understand the need for why she was assigned here. "You see pictures of these beautiful islands and how many tourists visit every year and I thought, 'hey they have it pretty good.' Once I arrived, I saw the lack of resources for education and understood why we were here."
Peace Corps encourages us to share our culture and one way to do that is during the holidays. In the US, we celebrate Halloween at the end of October. One fun activity to do during Halloween is pumpkin carving. Jessica carved a pumpkin, took it to school and put a candle inside to show her students.
Jessica has been active and explored St Vincent since coming here five months ago.. She has seen Fort Charlotte, visited Dark View Falls and hiked the volcano. She has also seen two Grenadine islands: Mustique and Bequia, which she says are "both uniquely beautiful."
When asked about what she'd like to share with friends and family back at home about St Vincent she said, "Many of us in the US associate poverty with high crime rates. But here in St Vincent, even with a large part of the population living below the poverty line, crime is relatively low. I think that is because the people of St Vincent are very kind and welcoming people."