Posted on
Secondary School Bible Quiz honours its 2019 Distinguished Graduate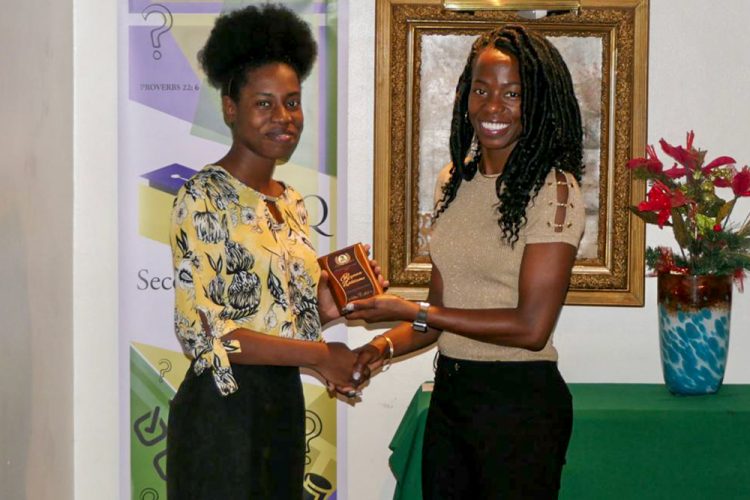 The Secondary School Bible Quiz (SSBQ) has honoured its Distinguished Graduate for 2019.
Last Friday, Reyann Williams, a past student of the Mountain View Adventist Academy (MVAA) was honoured at a luncheon at the Grenadine House and presented with a plaque compliments Right Stuff and a cheque for $1200 by Jehann Jack.
The Distinguished Graduate award honours regular participation in the SSBQ along with outstanding academic performances to a school leaver.
Williams met the qualifying criterion for the award and gained 13 CSEC subjects with 10 ones, 2 twos and 1 three. In December 2018 she also won the SSBQ monthly prize. She is presently attending the University of the Southern Caribbean in Trinidad.
"I continue to give God praise and thanks for the completion of another year of the SSBQ. This monthly quiz for secondary school students had its beginning in November of 2007. It began with noble motives (to encourage the nations youth to become more familiar with the Bible) and with very humble offerings. Over the years it has grown and I am grateful to all who continue to support the exercise in one way or other," said Joel Jack, organizer of the SSBQ.
Special mention was made of Acute Cosmetics, Searchlight, WEFM-Scriptural Search, Jujube, Right Stuff, Quik Print and members of the Jacks family who continue to give tangible and technical assistance.
Jack also expressed appreciation to the students, parents, teachers, principals and all our Facebook friends for their participation, encouragement and moral support.
In addition to giving monthly incentives to the winner of the Quiz, from 2011, the SSBQ has offered the Distinguished Graduate Award annually. Jack publicly thanked his daughter Jehann Jack for sponsoring this award since its inception.
Also present at last Friday's luncheon were Clare Keizer – Editor of Searchlight; Edley Dunbar of Scriptural Search; Marcia Williams – Reyann's mother as well as other members of the Jack family.