Posted on
Bequia's fireworks thrill yet again!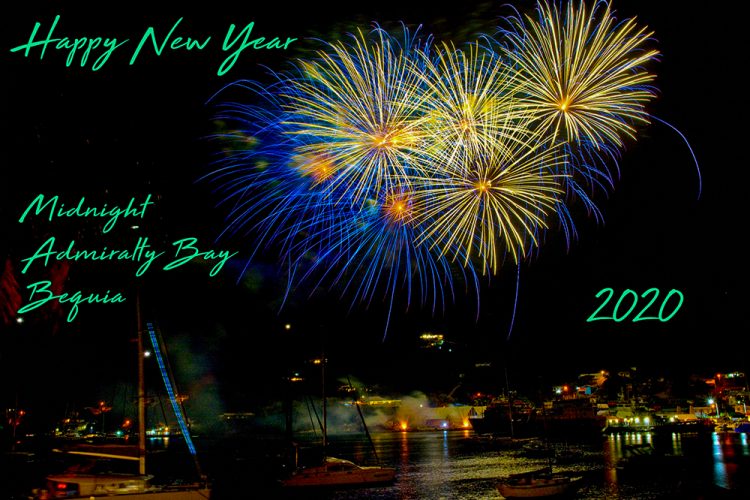 Anticipation reached fever pitch on Old Year's Night as thousands of Bequia residents joined land- and yacht-based visitors in the countdown to midnight. All waterfront locations in Admiralty Bay, including bars, restaurants and the streets of Port Elizabeth itself were crowded like never before as the first burst of Bequia's spectacular fireworks display exploded into the night sky.
Brainchild of Sir James Mitchell, the all-volunteer Bequia New Year's Eve Celebration Committee is solely responsible for organising and mounting Bequia's magnificent annual New Year's Eve event.
This year, fresh from the success of two massive 500th anniversary celebration shows in Havana, Cuba, Canadian pyro-technician Fred Wade, CEO of Fireworks FX, was flown in to produce the show for the Committee. And what a show it was! Huge cheers rang out throughout the display, and universal praise for "best fireworks ever!" reflected the dedication and hard work of the Committee's "Bang Gang".
Speaking after the show, Sir James commented: "The excitement generated by Bequia's Millennium fireworks display in 2000, organised then by a small but enthusiastic team from the Frangipani, inspired me to do it again each year for the people of Bequia and its visitors. Thanks to our Committee, the celebration in Admiralty Bay over the last 19 years has become a Bequia institution, bringing joy to all who witness it on New Year's Eve. Long may it continue!"
Funds for the event continue to be raised entirely through the generous contribution of private individuals, local businesses and well-wishers, with import concessions graciously provided by the Ministry of Finance and permission to import granted by the Commissioner of Police. A full list of donors and supporters will be published shortly.