Posted on
Upgrades to Brighton Salt Pond going well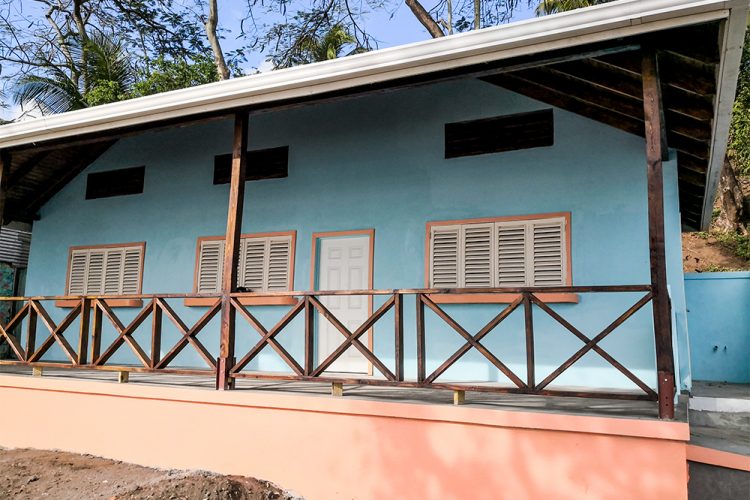 Elroy "Huffles" Arthur, leader of a group called the Brighton Beach Rollers said on Monday that he is happy with the work being done at the Brighton Salt Pond.
In March this year, the group had complained that although they had been taking care of the Brighton Beach for the last 35 years, the government was making moves to upgrade the facility without their input.
But after a meeting between group members and government officials, Arthur said they were promised a place when the facility reopens.
"Everything look good for now and we are glad how them upgrade the place; how [Minister of Finance and East St George area representative] Camillo [Gonsalves] upgrade the place, the place looks much better," Arthur said on Monday.
Arthur said the project, which includes the upgrading of the washroom facilities and the bar area, also includes the building of a house for one of their members who has been living on the beach and upkeeping it for over 30 years.
"They built a house for the watchman, he lives on the beach and for 30 years ago, he never move, so everything there, they fix him up real good," said Arthur.
He added that since the project started, they have never stopped cleaning the area and welcoming tourists, so he is hoping that when the project is completed, they are given an opportunity to have a meaningful input in the management of the facility.
"We are satisfied with the upgrade, it looks real good and it really come a long way," Arthur stated while adding that he is hoping that the road leading to the beach is finished soon.
He said that completing the road is important as some persons are using another path to get to the beach which is problematic as during hide tide, persons have to take off their shoes as the path is flooded.
"We are looking forward to seeing it finished…we engineered that project," said Arthur.
Last March, Arthur told SEARCHLIGHT that many years ago, the beach was known as Milking Bay and there was no way to properly access it until a group of men from the area decided to make a path to the sand and clean the area.
He said that after they cleared the path, persons began to use the beach and the group renamed it the Brighton Salt Pond and has since that time been upkeeping the area.
Gonsalves had said in March that $160,000 would be spent to upgrade the facilities, which on completion would include a reception area, washrooms, vending kiosks, fire pits, security facilities and gazebos.