Posted on
Steel Expressions – Now a staple end-of-year event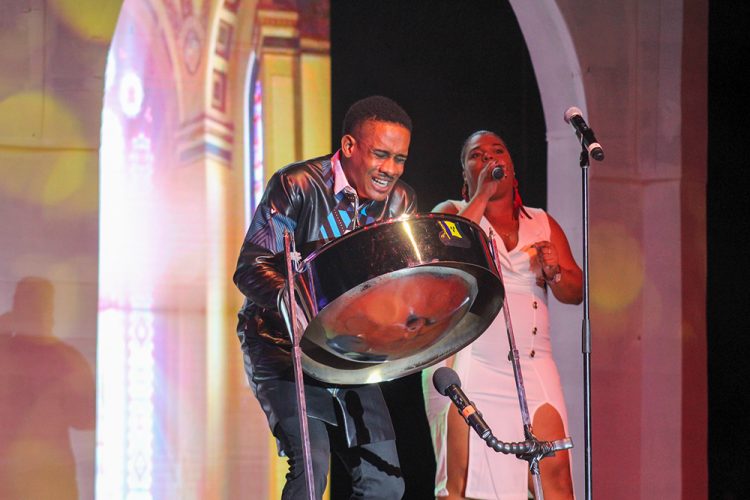 In 2012, only 18 people were present to witness the first instalment of Steel Expressions at Peace Memorial Hall.
Eight years later, hundreds of people flocked to the Arnos Vale Sporting Complex for the event that is now being hailed as a staple end-of-year event.
The 2019 instalment, dubbed 'Steel Expressions: Where Music Lives' took place on December 28 and featured Michael Ibo Cooper from the band Inner Circle and Third World.
Rodney Small, creative director of Steel Expressions told SEARCHLIGHT this week that he really wanted to highlight all the places that music lives and how music has been influential on society.
"The set design itself, I wanted it to represent something that is significant to St Vincent, which was really the arches, because we are known for the city of arches. In a nutshell, the different set designs and production was really to highlight a lot of the places that music lived and a lot of places that music influenced, the church, the ghetto, the plantation…it's really places that music were prominent and played a very important role," he said.
The event, which started promptly at 8 pm took its audience on a melodic journey to all the places "Where Music Lives".
Patrons were taken back in time to the plantation before being ushered into the church and then to a jazz club. They were also transported into the 60s, 70s and 80s era before landing in the centre of the Caribbean and then specifically to St Vincent and the Grenadines for a taste of Vincentian musical talent.
Each set was transformed using digital production, props and actors and dancers.
One woman, who was attending show for the first time with her daughter said "the backdrop was wicked!"
"When we came up from the 70's, 80's, 90s, it was amazing, but then we hit the Caribbean, I swore we were at the beach," the patron told SEARCHLIGHT.
She also gave rave reviews to Michael Ibo Cooper, whose performance she said was both educational and entertaining.
Cooper sought to educate persons through his appearance, by highlighting musical hits and how they influenced music being made in the Caribbean.
He called on Small, who he taught at the Edna Manley School of Visual and Performing Arts in Jamaica, to accompany him in playing Rocksteady reggae beats before segueing into hits like Bob Marley's 'Get up Stand up' and Third World's 'Now That We've Found Love' and 'Try Jah Love'.
Small made appearances in each section of the show on steel pan. Appearances were also made by violinist, Samuel Toka; pannist Saeed Bowman, local artistes, Gallonaire, Orande Bomani Charles; and international recording artist, Marlon Roudette, among others.
One patron, who has attended all eight shows, said that 'Steel Expressions: Where Music Lives' was the best one yet.
And many other persons shared similar reviews via social media.
"Based off of the reviews and the phone calls and criticisms, which were constructive, I think a lot of persons got the concept and really embraced it. Persons were saying that it's the formula I should go with, persons who were returning patrons, who have been there for years said that this is what it really should be. So I'm quite and well satisfied," Small told SEARCHLIGHT.
The creative director said the event is one persons can come to for quality entertainment and some of the best musical performances in St Vincent and the Grenadines.
He also said that he was completely satisfied that he delivered a top notch event this year as well.
Small said that one of his struggles has always been figuring out what the market wants so that he could create an event that catered to all age groups.
The pannist described it as a "phenomenal feeling" that so many persons are now embracing Steel Expressions.
"It has always been a struggle to convince persons to come to Steel Expressions, because persons were of the opinion that it's all steel pan, the traditional way of steel pan. But getting them to come, persons encouraging them to come, they realise it's more than just a steel pan show and more than just a steel pan player," he said.
Small added: "The growth is phenomenal and I think that's what a lot of persons appreciate, the improvement of this show year after year. And that's what we really want. We don't want to peak anytime soon, we want to make sure we leave room for improvement, so that each year when somebody comes back, they can see something that is different, something that is new and something that is refreshing".
The theme for the next event, which is slated for December 2020 is 'Steel Expressions: The Kingdom'.