Posted on
Parliament increases age of Criminal Responsibility to 12 Years Old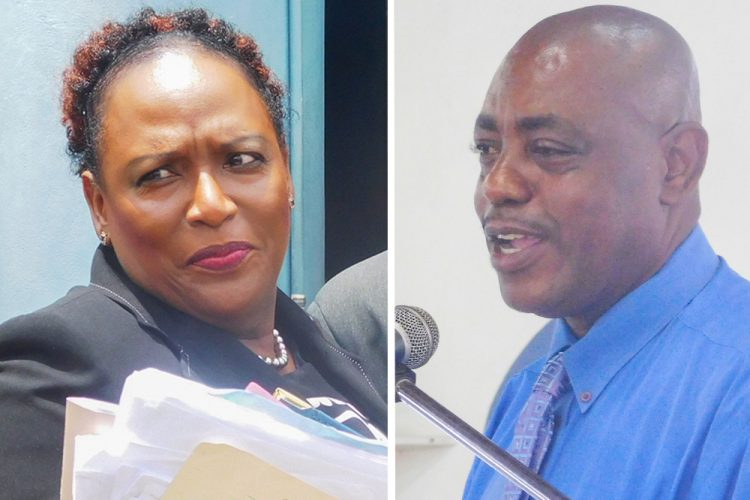 The age of criminal responsibility in St Vincent and the Grenadines (SVG) has been increased by four years and now sits at 12 years old.
This follows the passing into law of the Child Justice Act last Friday in Parliament; one of four laws in a suite of legislation referred to in the OECS as the 'Model Family Laws'.
Frederick Stephenson, the minister of national mobilisation in his presentation said that a child under 12 shall not be prosecuted for any offence that he or she is alleged to have commit.
"A child age 12 but under the age of 14 years shall be presumed not to have the capacity to appreciate the difference between right and wrong unless this is proved otherwise," he said.
And this new Act replaces the Juveniles Act, and prosecution of a child under the age of 14 will be on the basis of certification by the Director of Public Prosecution (DPP).
Stephenson noted that the law can also be applied to persons over 18 but under 21 in special circumstances and with direction from the DPP.
Under the new legislation, neither corporal punishment or a life imprisonment sentence is to be imposed on a child.
"There are provisions for a wider range of sentencing options…" Stephenson said in Parliament.
And he said that these sentencing options include community based sentences and restorative justice sentences which refer to sentences that promote reconciliation, restitution and responsibility throughout the involvement of a child, the parents of a child, the members of the family of the child and the victim and the community.
The minister also said that there are also provisions for sentences that involve correctional supervision and these sentences include the referral of a child to a secure residential facility or prison, a penalty in lieu of a fine or imprisonment and compensation to be paid by the parent of a child.
"If no legal representative was appointed by the parent or an appropriate adult, a child must be provided with legal representation by the state," Stephenson said.
He also noted that a time limit of six months from the date that a child pleads to a charge, is set for the conclusion of a trial, except in cases of a charge for murder, robbery or rape.
And offences committed by children are listed under three different categories and carry different penalties based on the category they fall under.
Schedule One offences include assault where grievous bodily harm has not been inflicted, malicious injury to property where damage does not exceed $5000, trespassing and theft where the value or property does not exceed $5000.
"A sentence of imprisonment should not be imposed in respect of a Schedule One offence," Stephenson said. "The bill sets out…that there must be compelling reasons justifying apprehension for any offence listed under Schedule One."
He added that a child should detained by police for a Schedule One offence only in exceptional circumstances.
Schedule Two offences include assault involving the infliction of grievous bodily harm, arson, robbery, theft, any offence under any law relating to the illicit possession of dependence drugs, where the value involved is not exceeding $100,000 and forgery or fraud where the amount concerned doesn't exceed $100,000.
And Schedule Three offences include murder, rape, robbery. It also involves any offence pursuant to drug trafficking offences or the Drug Prevention of Misuse Act.
"It is our hope Mr Speaker that the positions to be created under this new Bill when it becomes an Act, will help us to improve the status of children in St Vincent and the Grenadines and to ensure that we have the required capacity and secured residential facility where we can take care of the diversion process of the children who will become in conflict of the law," Stephenson said.
Debate on this Act came from both sides of the House but members of the parliamentary opposition, including opposition leader, Dr Godwin Friday and senators Kay Bacchus-Baptiste and Israel Bruce expressed their support for the implementation of this bill.
Senator Bacchus-Baptiste, in her presentation said "it is a commendable act and we on this side support it. I was a member of the select committee and so I'm familiar with most of the changes that were made…"
The senator said however that passing the Act alone is not enough.
She suggested that training be undertaken for persons including certain officers be trained to deal specifically with children.
"I am happy that we are pushing ours (SVG) through but again…I cannot overemphasise the caveat of passing a national policy and having all the bits of trained persons and institutions and so forth in place as soon as possible so that this act can become operative," Bacchus-Baptiste said.
Prime Minister Dr Ralph Gonsalves in his contribution to the debate noted that there are persons who are of the belief that the age of criminal responsibility should be 14 and not 12.
"It is a matter on which reasonable persons would differ," Gonsalves said. "if a person says why not 14, my answer would be this:…if a child under the 14 wouldn't have criminal responsibility, all of us who are experienced in the justice system and who live in this real world would know that organised and not so organised traffickers in say drugs or fencing goods, would use children under the age of 14."
He said that these criminals are more likely to recruit someone between age 12 and 14 than they would a child between ages 8 and 12.
The Prime Minister said there are still tough measures but provisions are in place to avoid stigmatisation of a child.
Minister of agriculture Saboto Caesar also contributed to the debate before the Act was passed last Friday afternoon.