Posted on
DaSilva wins Best Lit Private House for fifth consecutive time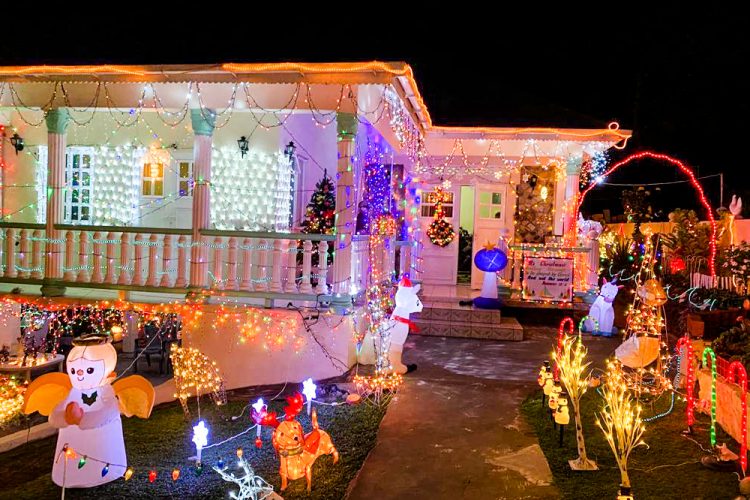 Olivia DaSilva's 2019 Christmas lights pointed the way for the Cane End resident's fifth consecutive win in the Best Lit Private House category of the VINLEC Nine Mornings Lighting up competition.
DaSilva told SEARCHLIGHT yesterday that this is her 17th year competing. And she has won 10 times in total.
"I am proud of myself because I formulate ideas guided by the Holy Spirit and I drop it in all my lights," she said.
The 10-time winner said she enjoys being a part of the competition and it is something she is very passionate about.
She also said that she has a theme based on scripture every year. This year's theme, "Sailing through, to be shaped by Christ and not the world" was taken from Romans 12:2.
DaSilva also won in the best Nativity Scene category and she told SEARCHLIGHT that she was "really excited [about] the nativity scene especially. I came fourth once in all these years since they have started the competition and to win it this time around, it was more joy to see that my additional placements in the manger would've brought success."
Ella Baptiste of Questelles and Ann Jones of Questelles placed second and third respectively in the Best Lit Private House category. Wayne Dupont of Green Hill and Cadman Stapleton of Coulls Hill tied for fourth place.
In the Best Nativity Scene Category, Roseau Recreational Park placed second, Stubbs main road came in third and Spring Village main road placed fourth.
The Roseau Recreational Park won in the Best Lit Gardens Category. Ces for Wes Gardens in Arnos Vale placed second, Richmond Hill Gardens placed third and Fitz Hughes School grounds placed fourth.
The Best Lit Commercial Building for 2019 is Jax Enterprises. The Central Water and Sewerage Authority (CWSA), Coreas Hazells Inc and Bank of SVG came in second, third and fourth respectively.
Point Village has won in the Best Lit Community category for the seventh time with Port Elizabeth, Stubbs and Rose Bank following behind in second, third and fourth place.
In the Zone 1 competition, Rose Bank placed first, Rose Hall placed second, Coulls Hill placed third and Spring Village placed fourth.
Belvedere came out on top in Zone 2 with Top Belair, Sion Hill and Calliaqua following in the second, third and fourth positions respectively.
In Zone 3, Stubbs won the competition, Richland Park placed second, Cotton Ground took third and Carriere placed fourth.
Point Village was the winner in the Zone 4 competition, beating out Owia, Diamond Village and San Souci, who placed second, third and fourth respectively.
And in Zone 5, Port Elizabeth took first place with Belmont, Diamond Village, and Gellizeau following in the second, third and fourth positions.
The 2019 Nine Mornings Prize Giving Ceremony will take place on Saturday, January 11 at 9:30 am at the Peace Memorial Hall. Prizes in all categories will be distributed.