Posted on
Rubis distributes food baskets to the needy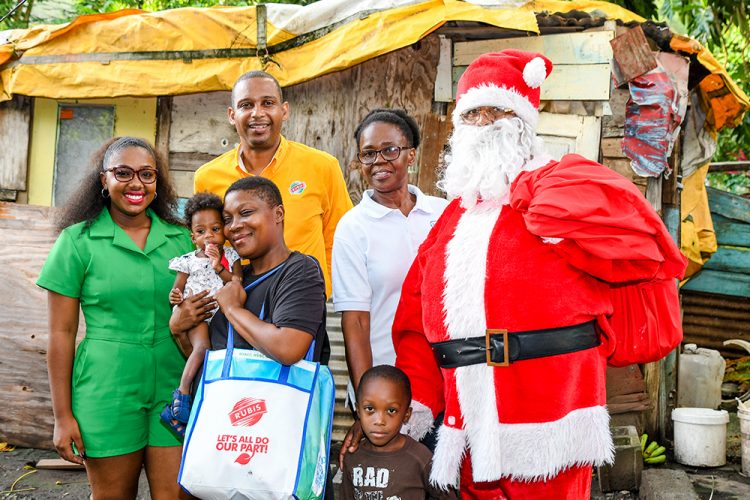 Friendly gestures by Rubis have brought smiles to the faces of persons who this year, may not have otherwise known the joys associated with the yuletide season.
On Tuesday, December 17, members of the Rubis team, led by Country Representative Elroy Edwards braced the inclement weather and journeyed to the rural areas of Penniston, Vermont, Francois, Clare Valley, Chauncey, Campden Park and Lowmans Hill, where they distributed food baskets to over 30 elderly, needy and vulnerable persons.
"Rubis has been a part of the lives of Vincentians since 2011 and we recognize and value the contribution each person has made to our success. We want to continue to give back to the people and the communities we serve," Edwards commented during one of the stops.
Accompanying the Rubis team on the missions was the case worker in the social welfare department for the South and Central Leeward District G.
The first stop was at the home of 93-year-old Prinella Small in Penniston. Small has 12 children and lives with her daughter.
"I have never been visited by Santa before and I am very thankful to Rubis for the gift basket and praise God for the company," answered Small when asked how she felt about Rubis's generosity.
The Clare Valley stop made for one happy recipient, Sandra Jobe. Currently unemployed, Jobe lives with her two children, ages four and 10. She stressed that she was grateful for the gift basket.
Her son also received text books.
Gillian Andrews of Lower Questelles was at a loss for words when the Rubis team presented her with her gift basket. Unemployed and partially blind, Andrews said the gift has made her season a special one and she was thankful that someone remembered her.
Eighty-three-year-old Athalie Sam of Francois, a diabetic who lives alone, said her heart was warmed by Rubis's visit and is hopeful that the team would visit again.
The team's last stop came in Lowmans Hill at the home of Melvina Kelly. Kelly is unemployed and lives with her paralysed daughter.
"I am very grateful for the kindness of Rubis," Kelly said.
Commenting on the initiative, Country Representative Edwards said Christmas is not just about opening gifts but opening hearts.
"Christmas is most truly Christmas when we celebrate it by sharing love with those who least expect it, the most needy and vulnerable," said Edwards while noting that it is always a privilege to interact with elderly and vulnerable persons and their relatives, some of whom shared their personal stories.
Edwards is also encouraging other businesses to reach out to the less fortunate. This is the sixth consecutive year that the company has embarked on this initiative.
Rubis works closely with the community development officers and persons within the communities who assist in identifying persons in need of assistance. Rubis employees were also asked to identify persons in their respective communities.
Last August, the generosity shown by Rubis eased some of the financial burden off the caretakers of 10 students who were going back to school.