Posted on
I was pulled from the top and pushed from the bottom – Lewis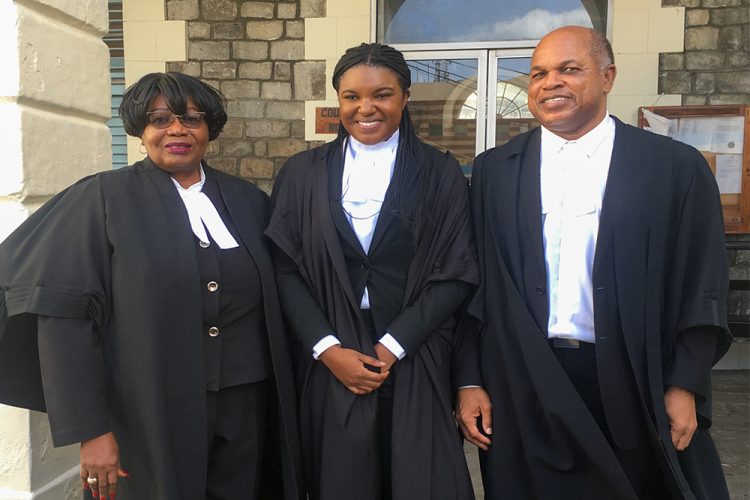 The newest lawyer called to the Bar of St Vincent and the Grenadines has been encouraged to be resolute and fair in her profession.
Maffica Lewis had her application heard before High Court Judge Esco Henry on Monday.
Her application was presented by her uncle Stanley John QC and supported by her father, Dr Linton Lewis.
John, in his remarks said that people often say that there are too many lawyers practicing in this jurisdiction. However, he advised Maffica that "there's always a lot of space at the top and being at the top of this profession means being dedicated, being at all times, cognisant of the ethics of the profession".
The Queen's Counsel also said that practicing law is very demanding and he encouraged the new practitioner to apply herself at all times while being mindful of her duties to the court and her clients.
Maffica's uncle also encouraged her to ensure that she brings to the practice, values that have been instilled in her through training, personal experiences and by her parents.
Dr Lewis said that he never expected his daughter to pursue a career in law.
He said that he always thought that she would become a teacher like him and he encouraged her on that path.
"I'm extremely proud that Maffica has taken this journey and has completed it at this stage. My eldest daughter took that journey some years ago in England and she has been able to follow that footstep. I can only wish her the very best…" Dr Lewis said.
But Akin John, lawyer and cousin to the newest member of the bar, said that from his experience with her, he was not surprised that Maffica chose to become a lawyer.
He also said that she reminds him of their paternal grandmother, who passed away before Maffica was born.
"Our grandmother was a fair, even handed woman and she was extremely spiritual and I gather that Maffica is also very involved in the church…she treated all of her grandchildren, all of us equally but she was also very stern and very resolute…," he said.
He continued: "I wish for Maffica to bear in mind that in order to be a sound practitioner, a lot of those values that our grandmother espoused, must be recognised and practiced by her. She must be resolute in pursuing her clients' matters but at the same time she has to be fair in pursuing her duties as an officer of the court".
Other speakers at Maffica's call to the Bar were Parnell Campbell QC and René Baptiste, the president of the St Vincent and the Grenadines Bar Association.
Following her oath, Maffica gave brief remarks.
She thanked the Judge for hearing her application and her family members for all the support they have given her throughout her academic journey.
She specially thanked her father for his support and said that her siblings were also a source of motivation.
"… I look to them for guidance and motivation. I was pulled from the top and pushed from the bottom," the Prospect resident said.
The new lawyer said that law was never her initial choice. As as a child, she thought she would pursue a career in medicine and when that changed, she considered pursuing a teaching career.
Maffica said that as she embarks on her new journey, she hopes to remain true to herself and maintain high ethical standards.