Posted on
St James School of Medicine donates to MCMH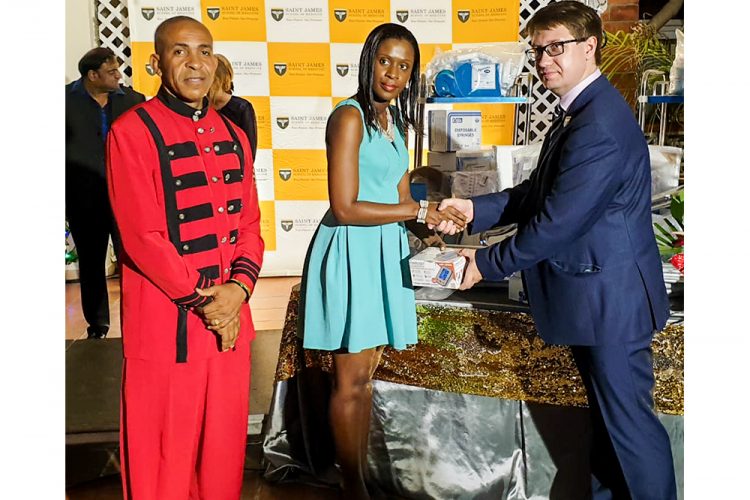 The Ministry of Health on Saturday received a donation of medical supplies from the St James School of Medicine.
The supplies were handed over during a ceremony at the Sunset Shores Hotel in Villa and were distributed among five clinics, Stubbs, Marriaqua, Chateaubelair, Buccament and Calliaqua.
Permanent Secretary in the Ministry of Health Cuthbert Knights thanked the medical school for the supplies. He stressed that the supplies were not cheap, and that each clinic receives many items that go towards the needs of persons in the various communities.
"It is through partnerships and donations of this kind that we can help to advance the delivery of our healthcare system and we are most grateful when a school like St James can come forward and do this," said Knights.
He added that the Ministry is encouraging others whether from the corporate community or offshore medical schools to make donations. Knights said St James has set the bar.
"Each of the clinics will receive a truckload of items so they will be well applied for a period of time …," Knights said, adding this is why he said St James set the bar high.
He added, "we will put them to optimum use. We have a very good healthcare system in the country and you may have heard differently, but we have excellent systems, but we have challenges and we offer different types of services and we will continue to improve with an acute referral hospital in the future".
The Permanent Secretary also noted that the policies of the state are inviting and developmental in nature and that is evident as we have attracted five medical schools to the country.
"We are grateful for what they are doing here. Not only are they bringing students, but they bring investments to our shore," said Knights.
Founder and President of The Saint James School of Medicine Dr Kallol Guha and other senior officials attached to the university were on hand to witness the donation.
Dr Guha said that since opening its doors in 2014, Saturday's event was the first time they were getting together as a team.
He said the medical school started in 2001 with 18 students and they have grown to two campuses, one in Anguilla and the other in SVG.
Dr Guha also revealed that the school started in Bonaire but came to SVG as it is easier to do business here.
Among the items donated are bed sheets, stethoscopes, digital blood pressure cuffs, urine bags, crutches, bed pans, gloves, trolleys, IV stands, dressing, kidney dishes, syringes, scissors, forceps, hand sanitizer, ultra sound gel, saline, paper towels and toilet paper.