Posted on
MOU signed to improve information sharing in Customs Law Enforcement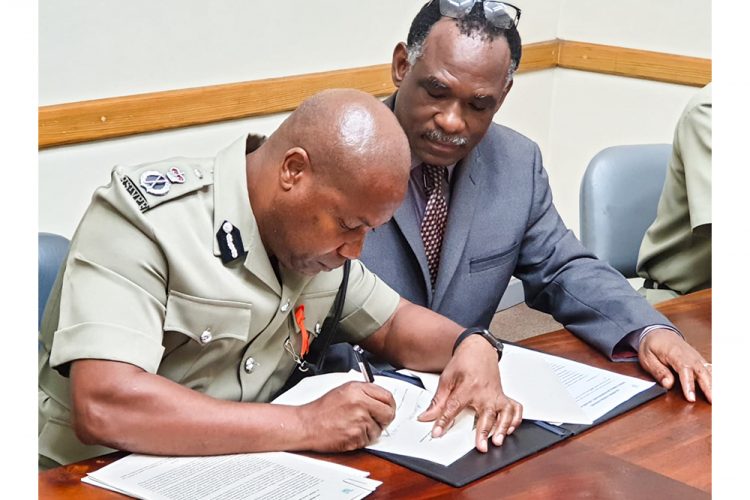 Customs and immigration departments in the region face the same types of challenges so it is important for these organisations to meet regularly.
"We have common problems with revenue collection, revenue protection, border security, terrorism…", Permanent Secretary at the Caribbean Customs Law Enforcement Council (CCLEC) Albert Sandy told a gathering here on December 2.
Sandy was in St Vincent to sign a Memorandum of Understanding (MOU) between CCLEC and the St Vincent and the Grenadines National Joint Headquarters.
The MOU allows CCLEC and the National Joint Headquarters to share information in respect of the Regional Clearance System (RCS), a web-based information system that captures national customs clearance information for pleasure crafts sailing through most ports in the Caribbean.
Sandy said that as far back as the 1970s, customs administration in the Caribbean has been looking at the model of the World Custom Organisation and they realized that they needed to come together regularly to be able to discuss the problems and share information.
He said as a result of coming together, a MOU was signed in 1989 on information sharing but that has outlived its usefulness. So at CCLEC's 41st conference in Havana, Cuba on May 22 to 24, 2019, an historical treaty was signed which will establish the Caribbean Customs Organization (CCO) to replace the MOU.
In signing the treaty, CCLEC agreed that it was of paramount importance, given the opportunities and challenges presented by technological advancements, to formalize the legal basis for sharing information.
The MOU, although not legally binding, serves the organization in meeting its objectives to improve the overall professionalism of its members through cooperation, sharing of best practices, human resource development, modernization, automation, harmonization of processes and procedures and information/intelligence sharing. 
However, global security challenges, the need for automatic sharing of information and the advent of several new trade arrangements means that the CCLEC's role will become more complex. To this end, the need for a more robust legally binding mechanism to improve information and intelligence exchange was necessary.
The CCO provides the legal gateway for members to share information not only amongst themselves but with other regional and international law enforcement agencies but has yet to be ratified by member countries.
Sandy said he hopes that the 14 members will ratify the treaty in the coming year and that will allow the CCO to replace CCLEC's MOU.
"We have accomplished a lot under that MOU but now we are moving to a treaty and this MOU migrates to the treaty," said Sandy who noted that the treaty says that any MOU entered into before the formation of the CCO will have the same force.
He said that SVG and the other countries indicated their intention to ratify the treaty but so far, many countries have not signed on.