Posted on
Vincentians urged to sign up for courses at RVA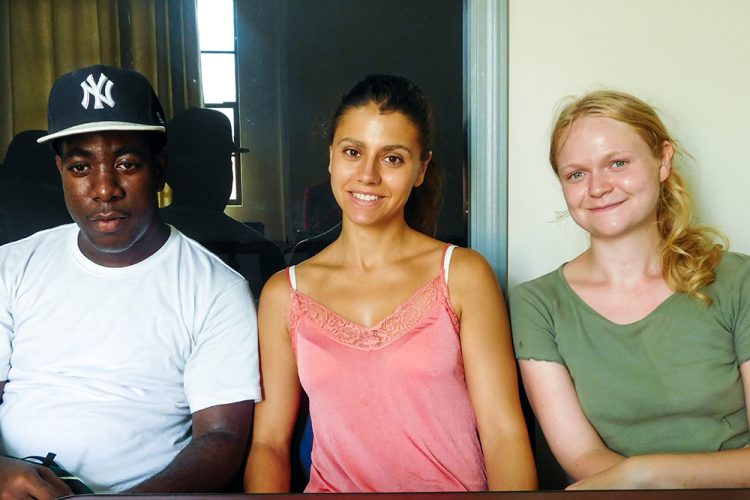 Students at the Richmond Vale Academy are encouraging Vincentians to sign up for courses that will teach them how to live sustainable lives and create forms of employment.
Three students from abroad visited SEARCHLIGHT recently to speak about their experience from being a part of the one-month version of the Climate Compliance course.
Nicola Wynne, a student from the United Kingdom said that the course is very useful and packed with practical and theoretical knowledge.
"It's really important to get as many persons from St Vincent doing the course as possible. At the moment, the people who come in are a lot of Europeans and stuff, there is a good mix, but I think it's important to get people from the island coming," she said.
Wynne said that Vincentians can benefit from "how to be sustainable basically so you don't need to be paying those prices that supermarkets ask for sometimes, and you get away from chemicals and fertilisers…"
The one-month Climate Compliance course is a shortened version of six-month and 10-month courses also offered at the academy.
And it helps to fulfil the overall goal of the St Vincent and the Grenadines Climate Compliance Conference, which began in 2012 and aims to have a climate compliant country by 2021.
Another student, Romana Rainier said that the course opens up future possibilities for its students and gives "ideas what one can do to live in a sustainable way".
"We focused on gardening and kind of food security as well, how to make food, how to plant and make gardens and we focused on organic gardening, so it was really interesting to learn new techniques and garden and to meet new people was very nice and we exchanged a lot of knowledge and it was really nice," Rainier, who is from Austria, told SEARCHLIGHT.
And the course is not just for farmers, but anyone interested in sustainable development.
Jamie Huggins, a member of the St Kitts and Nevis Defense Force said that he was a part of the course due to sponsorship that was available for persons from St Kitts to attend.
Like his other classmates, Williams also had good reviews about the course.
"One of the main things, there's a big issue about climate change, how it's affecting us, the ocean, the animals and everything so the concept is really about bringing awareness to the community, the world and to show them how to mitigate and adapt to climate change," McKeefer Davis, one of the teachers in the course said, highlighting the benefits of being a part of the course.
He also encouraged Vincentians to research and try to be a part of the course, which offers a certificate at the end.
And he said that it was accessible at no cost to Vincentians as well, as there are scholarships available.
In the one-month course, students are engaged in theoretical learning in the classroom before branching out to the school garden where they practice organic farming and permaculture and then ultimately venture out into the surrounding communities to engage in more practical exercises.
Persons interested in being a part of the courses offered at Richmond Vale Academy can visit the website at richmondvale.org.