Posted on
Small promises quality performances at Steel Expressions 2019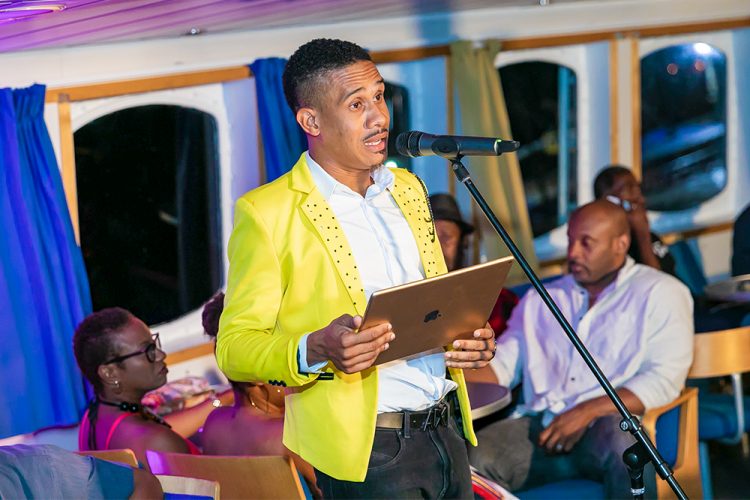 Anyone planning to attend Steel Expressions this year should be prepared to go on a journey, as the packed cast, led by pannist Rodney Small intends to transport patrons to all the places where music lives.
The eighth installation of the annual event was officially launched on Monday on board the MV Gem Star II.
And Rodney Small, the executive producer and creative director said that "Steel Expressions: Where Music Lives" promises to deliver even more quality performances from Vincentians and regional artistes on December 28.
"This year, the show will start by showcasing music on the plantation and how slaves used music to take their minds off the work that they were doing, then we move right into the negro spiritual and gospel era, featuring one of SVG's best gospel singers, Mr Ronnie Richardson and others," Small said.
He added that the journey will continue into the jazz and blues era before paying tribute to the 70s, 80s and 90s before climaxing with musical features of "our Caribbean brothers' and sisters' musical contributions, including our very own local artistes and musicians".
The three-hour production will also feature some of the different festivals celebrated in St Vincent and the Grenadines.
Michael Ibo Cooper of the Third World Band from Jamaica will make an appearance at this year's event.
And as in previous shows, two youth ambassadors, Kathy Miller and Christian 'Lil Chris' Christopher, will be among the packed cast which also includes pannist, Saeed Bowman, violinist, Samuel Toka and soca artiste, Joel "Dynamite" Tyrell.
Small also teased that his performances will also include surprise appearances from other artistes as well.
"Experience is not a cost, it's an investment," Small said as he thanked sponsors who have come on board to support the show which he said will incorporate a lot of multimedia work to enhance patrons' experience.
Part proceeds of Steel Expressions: Where Music Lives will be donated to the World Paediatric Project (WPP).
Lauren McIntosh, the executive director of the WPP, in brief remarks at the launch, said that the non-profit organisation was honoured to be this year's beneficiary from the show.
She praised Small for not only producing a quality event but also for his willingness to give back to a cause.
"I implore everybody to come out and support; support a great cause, support a great individual, who is seeing it fit to give back to society and give back to our children and give them that beacon of hope they need on life," McIntosh said.
This country is the hub of the WPP, an organisation that has in the last 18 years, helped over 3000 children to the tune of EC$79 million.
And McIntosh said that it is people like Small who give back, who make this possible.
Steel Expressions: Where Music Lives will take place at the Arnos Vale Sporting Complex on December 28, 2019, from 7pm. Tickets can be purchased at Coreas City Store: $60 – adults, $20 – children and $150 VIP food inclusive.