Posted on
An historic moment for three local designers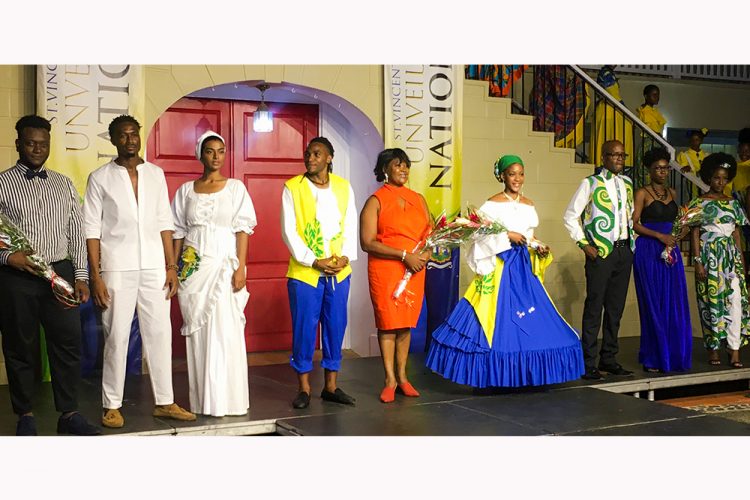 The names of three local designers will go down in history as the ones who created the designs for St Vincent and the Grenadines' official national wear and costume on its 40th anniversary of independence.
Invest SVG, in collaboration with the Ministry of Tourism, Sport and Culture and the Renewal at 40 Committee launched a National Wear Competition in September.
And the winners of that competition and their designs were unveiled at a cocktail last Friday at the Prime Minister's residence.
"I do not take this win lightly. I am happy that I can represent St Vincent and the Grenadines with my work," designer, Debbie Barbour told SEARCHLIGHT.
Barbour, who also works as a teacher at the Kingstown Technical Institute, won in national costume categories for both men and women.
The national costume is the design that is usually earmarked for stage events and more elaborate occasions.
And Barbour's design for women brought the drama with a blue, yellow and green puffy skirt; the volume elaborated by a handmade hoop petticoat. The outfit also included an white off-shoulder blouse and yellow jacket with a green breadfruit leaf print.
The male costume consisted of blue, cuffed breeches, a white long sleeved blouse and yellow jacket with the green banana leaf print to match the female design.
"…When I started it, I knew exactly how I wanted the Vincentian man and woman to be. We're called the gem of the Antilles and I thought yep, make the dress royal, I wanted it floaty and I wanted it like the blue for the deep blue sea we have," the designer said. "I actually did my own print which is the breadfruit leaf on a yellow cotton background and it has a story to tell because the breadfruit tree is very much part of our history so I wanted to incorporate that."
Barbour told SEARCHLIGHT that the green in her design represents the lush vegetation and the whole ensemble is meant to have and embrace freedom of movement.
And she managed to execute her designs in one week, with only evenings to work on creating each piece.
Two other designers, Jeremy Payne of Fashion is Payne and Sophelia Blucher of Somaché Fashion Consultancy also had the winning designs for the female national wear and male national wear respectively.
Payne told SEARCHLIGHT that he has in the past, pushed for a national wear and he feels good to have won the competition that makes his design the official one for this country's national wear.
His design for females consisted of a white 1800s-style inspired dress, with a white apron that sported a mix of banana and breadfruit leaf print in blue, yellow and green, and a white head wrap.
"I used the apron because it pays homage to our working class because back in the day, and even now, you will find market vendors, shop keepers, farmers, everyone wears an apron to hold their money or whatever bits and pieces they have around them to hold it close…" the graphic art designer said.
He explained that he drew inspiration from the coloured women depicted in paintings by 19th century artist, Agostino Brunias.
Payne also said that his design also pays homage to this country's history of cotton picking and while the dress is white, it serves as a blank canvas for people to add colour however they like.
Meanwhile, Blucher's design for men included a classy black pants, white shirt and printed waist coat.
"This came as a shock to me, just being one of the finalists because I didn't spend much time designing the clothing and such because of the time. It was a short space of time. I really appreciate the opportunity and I'm glad for the experience," she told SEARCHLIGHT.
Blucher, who has been creating designs for the past 16 years, said she learned of the competition late but still decided to submit. And while she is satisfied with the judge's decision, she believes that she would have created an even better design with more time.
She also said that the fabric she intended to use for her design was sold out and so she had to substitute when creating the pieces to show at the cocktail.
"I intend to use the fabric again when it gets back in store and I'm even trying to source it so I can sew my original idea and take photos and put it up, even for the female as well," she said, explaining that her original design had prominent colours of blue, yellow and green with specks of white and black.
She said that she drew her inspiration from the African ancestry of this country, looking at what they wore and trying to create something that merged both modern and traditional style.
The unveiling of the national wear last Friday also featured speeches from Prime Minister Dr Ralph Gonsalves; Rene Baptiste, a member of the National Wear Selection Committee; and lively performances by Rodney Small and the RS Band.