Posted on
Consulate General of Saint Vincent and the Grenadines Plaque Unveiled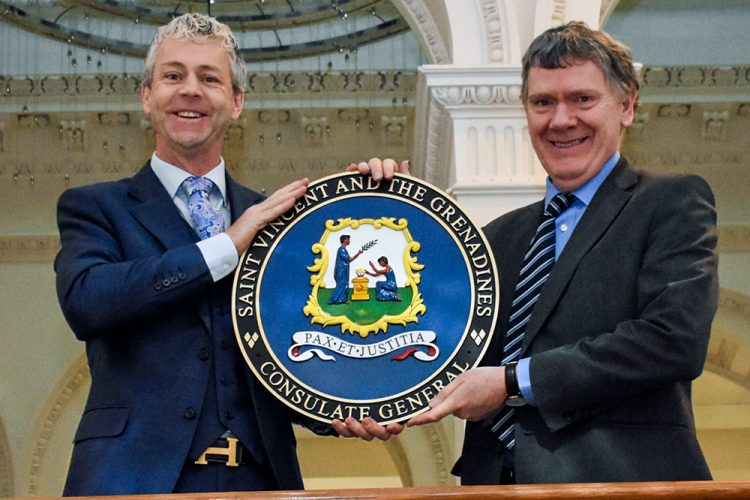 The official plaque for St Vincent and the Grenadines' Consulate General in Northern Ireland was unveiled November 19 at Stormont Castle by Consul General Dr Christopher Stange with Dr Andrew McCormick, Director General International Relations, The Northern Ireland Executive Office.
It will be installed on the Consulate General buildings in Comber both internally and externally.
St Vincent and the Grenadines established diplomatic relations with the United Kingdom of Great Britain and Northern Ireland on its Independence Day – October 27, 1979 and Ireland on April 30, 2015.
Dr Stange said: "Our Government's commitment to expand its diplomatic network will contribute to a further strengthening of relations and mutual cooperation between our countries, adding great value to the existing ties."
Dr Andrew McCormick said: "We welcome the establishment of St Vincent and the Grenadines' Consulate General in Northern Ireland. This marks the 20th anniversary of our formal diplomatic relationship and also looks forward to an exciting new chapter for both countries. We look forward to new opportunities to explore future economic collaboration.
Northern Ireland continues to strengthen its global relationships and connections and the establishment of a number of Consulates General here in recent years is a reflection of that."
The newly opened Consulate General of St Vincent and The Grenadines in Northern Ireland becomes the Caribbean country's third Consulate General established around the world, after New York, USA and Toronto, Canada.
St Vincent and the Grenadines has recently become the smallest country in the world to serve as a United Nations Security Council Seat Holder. A post it takes up on January 01, 2020 for two years.