Posted on
Bequia youth awarded scholarship by Trinity School of Medicine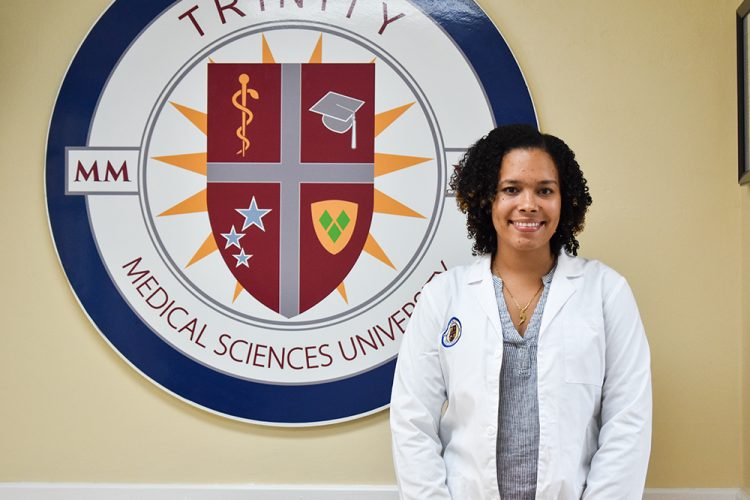 Shania Leslie from Bequia, who is a student of Trinity Class of 2023, has won the Trinity Vincentian Scholarship for 2019.
This award comes from Trinity School of Medicine, in association with the Government of St Vincent and the Grenadines. This scholarship offering is a reflection of Trinity School of Medicine's continuing commitment to supporting and promoting the educational goals of the Government of St Vincent and the Grenadines.
Shania, who has already completed her pre-med education and one term of the 10 terms in the medical programme at Trinity, will receive: US$13,900 or EC$37,366 for each of the first five terms, and US$15,200 or EC$40,860 for each of the remaining five terms.
Obviously elated at her achievement, Shania, who had always wanted to become a physician, gave a background to her accomplishment. "I studied really hard at pre-med and at my one term of MD before application," she said, "and think that I deserved it!" She explained that, gaining the scholarship acts as a way of giving back to her parents, who have worked hard through their lives to provide the best for their children. "Basically I wanted to give my parents an ease on their finances. My father would work day and night to facilitate us, so I'm just working hard to give back to them in this way," she explained then added, "I have a younger sister who wants to be an architect and my parents will now only have to deal with that!"
To be eligible for this award, the prospective candidate must: be a citizen of St. Vincent and the Grenadines; submit a completed T-I form to the Service Commissions Department; and be approved and recommended by the appropriate officer of the Service Commissions Department, Government of St Vincent and the Grenadines. For the final step in the process, the applicant must be accepted for admission to Trinity School of Medicine, having achieved a 3.2 GPA or United States Equivalent in prerequisite courses as defined by Trinity School of Medicine.
As far as Shania was concerned, even after having satisfied all the requirements, and after feeling she deserved the award, she was still in doubt whether or not she would beat out her competitors.
She looked at the situation in the following way: "The Vincentians at Trinity are smart, so the competition was great and I'm sure there are students here as smart as I am, or even smarter.
Now, with that accolade under her belt, the eager Trinity future physician is poignantly cognizant of the fact that there are certain expectations that she will have to live up to. She, having been a very hard worker from the onset, admits that her journey into exercising commitment will now become more strenuous. Acknowledging this she said, "Many people have been looking up to me – the first doctor in my family; as a Vincentian in a school that is predominantly American, all the housekeepers and security guards all look up to me always wanting me to do well. You could imagine that I have to continue to work harder, putting in more than the already 16 hours a day. I neither want to disappoint anyone nor myself. I want to be a doctor first and foremost!"
The award of this scholarship brings benefits to both entities. It will benefit St Vincent and the Grenadines positively in procuring the expertise of another trained physician and it will demonstrates Trinity's desire to remain a good corporate neighbour. Embedded in this award is the successful candidate's bond to serve the nation of St Vincent and the Grenadines as he/she supports the medical needs of the Vincentian community, in accordance with existing regulations and policies. Shania looks forward to that day when she can do just that.