Posted on
Whale and Wildlife Tour Boats launched in Barrouallie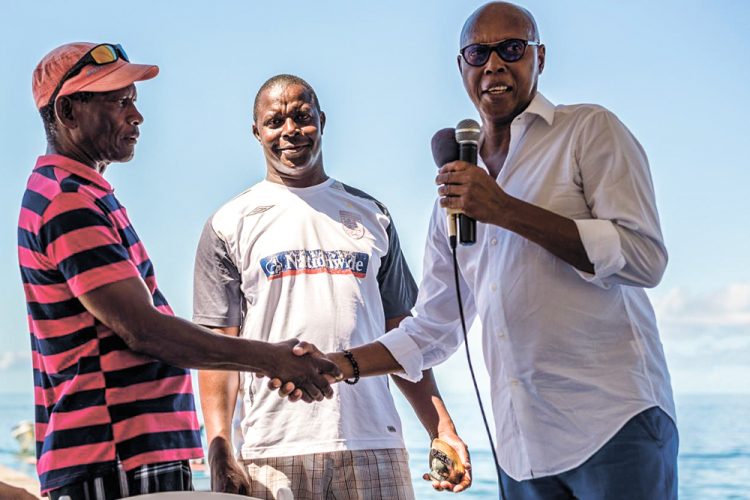 by Katherine Renton
A former whaler and a tour operator are set to become the first in the traditional whaling town of Barrouallie to explore the eco-tourism alternative of whale watching.
Vessels "My Peace" and "Alex Tours" were officially launched last Saturday at a ceremony at the jetty in Barrouallie, and the keys to the engines handed over by co-director of the St Vincent and the Grenadines Environment Fund (SVGEF), Andre Iton.
The boats were financed from a project funded by the SVGEF as well as another Vincentian organization, the Yanagil Education and Development Fund and an Argentinian organization Fundación Cethus, which provided training in responsible whale watching for grantees Lennox Stephens and Kirk Grant.
A policy of the SVGEF is to encourage a shift to whale and wildlife watching as an alternative to whaling, so that persons find alternative livelihoods to sustain themselves, the Executive Director of the Fund, Louise Mitchell explained at the ceremony.
Mitchell stated that SVGEF understands that humans are the custodians of nature, and so "it was our firm view that if we believed in a shift towards whale watching, that we needed to put our money where our mouth is and actually give financial support to the persons who are willing to head in that direction with us."
"We believe that the option that we are offering is actually going to bring a better life to this town," she stated. Besides being more lucrative, she indicated that the venture will bring SVG in line with international treaties for which it is a signatory, and will protect persons from consuming the unhealthy amounts of mercury in whales.
Further, she acknowledged the importance of Stephens' and Grant's decision to work with the Fund.
"As a Fund you can have amazing ideas about what is possible, but if you don't have people on the ground in the communities to implement those ideas, your ideas would be nothing but that – ideas," she stated.
Grant came into the scope of the SVGEF after being introduced to the Fund by the Chairman of the National Parks, Rivers, and Beaches Authority, Gideon Nash.
"He (Grant) loves people, he loves nature, and I think he's gonna do an excellent job," the Executive Director informed.
On the other hand, Stephens' relationship with the Fund began two years ago, when Mitchell and Iton came to Barrouallie to speak with the whalers and to offer the Fund's assistance, should the whalers choose to make a transition to whale watching.
It was up until the beginning of 2019, Mitchell explained, that Stephens was a whaler in Barrouallie, but then he decided to go in a new direction. "…And he didn't come to us to say I want a million dollars to stop, he said look I have done half the work, I've actually built a boat for this," she continued, calling him a true entrepreneur.
Grant, a tour operator for over 40 years, in his remarks, asked the people of Barrouallie and SVG to support them in their decision.
"I'm here to stand up for everybody, for St Vincent and the Grenadines, to know that we can do better, we can do better by whale watching," and rise like other countries, Grant assured.
He recalled his and Stephens' 10-day trip to Argentina with Fundación Cethus during which they were able to see the "whitefish" hunting the seals on the beach.
"There's a hotel close to it…with US$5000 for one week to stay there just to grab a picture of [the scene]," the enthusiastic Grant noted, stating that the opportunity could be very helpful to Barrouallie.
Both Grant and Stephens mentioned the "fight down" they received from some persons on the matter.
However, Stephens, who handed over his whaling equipment on that day, explained "Your life is your life, your vision is your vision. So you must know what is yours. You listen to yourself."
He added, "Your brain is your brain, if my brain sick yours don't have to be sick. If I get a cut you don't have to get a cut."
Indeed, protest signs were placed along poles on the jetty, with one of the friendlier ones reading "long live whaling in Barrouallie SVG."
Despite contention, fortune seems to be favouring the initiative, as on their first mini tour following the launch, the two vessels loaded with curious children and adults, came across a pod of cetaceans some distance off the coast of Barrouallie.