Posted on
Money transfer made easier by Squeeze Cash, a new digital currency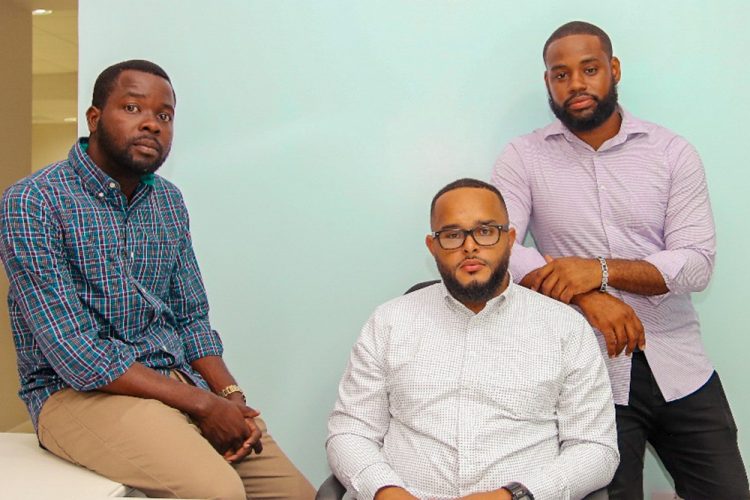 Two Vincentians and a St Lucian have set out to change the way that Caribbean people see money and propel the islands into the realm of a cashless society.
And they hope to achieve this goal using their app, Squeeze Cash.
"It is an alternative to the money transfer businesses that we have, the traditional money transfer businesses. It is cheaper than every single one of them," chief executive officer, Kendrick Quashie told SEARCHLIGHT in a recent interview.
"It allows for users and merchants — so it literally replaces your physical cash with a digital currency. So anybody in the world can download our app. Anybody in the world can create an account, anybody can put money onto the app but the monies can only be spent in these jurisdictions and you can only cash out in these jurisdictions," he said.
The digital wallet application was first launched in St Lucia in June this year. St Lucian, Sunal Fontenelle and Vincentian, Ashley McLean were in the process of building a food delivery app when they realised that there were no existing mobile or online payment systems that could be integrated into their application.
"People were still going to have to collect cash upon delivery and so they realised the need for a payment solution," Quashie explained.
The chief executive officer said that his role came into play to turn the Squeeze Cash platform into a business.
The application began operating in St Vincent and the Grenadines in October and almost 40 merchants including KFC, CK Greaves supermarkets, Chillspot and Parriz Lime and Chill have signed on to accept payment from customers using the app.
Between St Vincent and St Lucia, there are over 70 merchants using Squeeze Cash to accept payments from customers.
"We had to make sure we checked with … the Financial Services Authority…to make sure we are legally eligible to operate in these jurisdictions,"Quashie explained.
He also said that they "have been communicating with other jurisdictions in the Eastern Caribbean and we can operate virtually in all of these countries, we just need to get one final thing organised where we can collect cash from the prompt; the legality of that as it relates to the other countries in the Eastern Caribbean, but our app, as it stands now, has EC dollars on it. It operates in EC dollar".
In the short time since the digital wallet application was introduced in SVG, Quashie said that it has managed over $10,000 worth of transactions. And more than one local business has seen over $1200 in transactions through Squeeze Cash.
The entrepreneur also said that people have been sending money to loved ones in SVG from Canada, the United States, United Kingdom and even Taiwan using the app.
He said that so far, the reviews have been good.
"You can talk to us via the app, via social media emails and because it's our technology. This isn't outsourced. Sunal Fontenelle is the developer. Everything was built from scratch so we are able to make any twists or turns, any adjustments, we can fix it. It is our technology and we can do so quickly," Quashie said.
But how does one get their physical cash onto the application?
Quashie said that the application deals in EC dollars, not cryptocurrency and so every dollar is a dollar. There is no fluctuation in the value.
And he told SEARCHLIGHT that recharging one's digital wallet is as simple as if one were topping up their cellular phone with calling credit.
In fact, the chief executive officer recently signed a memorandum of understanding with Facey Telecom Ltd where Squeeze Cash users in St Vincent and the Grenadines will be able to recharge their digital wallets through Facey Telecom's resellers network.
Likewise, there are also provisions for persons to "cash out", so that the money that is in their digital wallet can be transferred to their personal bank account.
"You must have at least $100 to cash out and it only costs you five dollars to cash out," Quashie said. "For businesses, when they set up their account, can decide how often they want to cash out.
It's done automatically whether its weekly, monthly or daily. For individuals, you will enter your banking information here and whenever you want any money, you just go to cashout."
And the businessmen are hoping to introduce an ATM card in the near future that will allow app users to cash out directly to the card, which can be used online or at any ATM machine.
"We have successfully raised some investment which is what we're using to expand," Quashie said.
He added that they "are looking to scale up quickly across the Caribbean. The app has the capacity to scale up quickly and take on other currencies. It's having enough human resources to be able to manage the backend, take care of the marketing etc."
Squeeze Cash can be downloaded for free from the Google Play Store where it is currently rated 3.5 stars or on the App Store, where it has a 3.7-star rating and ranks #8 on the Finance App Charts.
Squeeze Cash will host official launch events in St Vincent and the Grenadines on Tuesday, November 26.