Posted on
The methodical transformation of Maderia Valley Heritage Park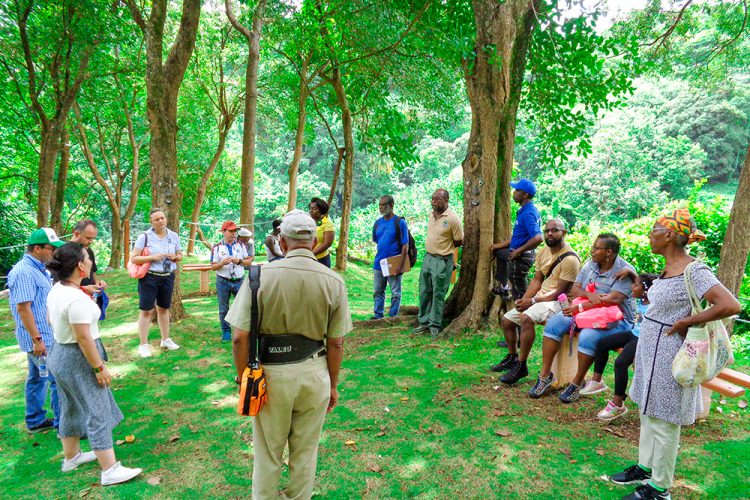 The slow transformation of Maderia Valley Heritage Park at Valley Road in Bridgetown has been as methodical as it has been inspirational to the teams of people involved in the changes taking place.
The site is now taking shape to become a showcase for the rich, complex historical and cultural heritage of the local community and also affords employment opportunities to a number of individuals.
Robert Fitzpatrick, owner of the land on which the Maderia Valley Heritage Park (MVHP) is situated has had a loyal team of masons, horticulturists and others from the community working with him over the decade he has spent creating the stunning agro-park and trail over three levels on the five and a half acres, with a 'Welcome Centre' and small museum, and a water feature planned to begin as soon – as more funding becomes available.
Maderia Valley Heritage Park recently obtained a 'Phase One' funding under the United Nations Development Programme (UNDP) Global Environment Fund – Small Grants Programme – through the assistance of co-ordinator and facilitator Taseka Haynes-Bobb who visited the site on previous occasions to assess the project for funds – and has kept herself abreast with the development and work funds were allocated for. She has been instrumental for the smooth progress to date – through her advice and practical help.
Last month a delegation from Columbia (SENA) visited the site at the invitation of Director of Forestry Fitzgerald Providence and his colleagues to see the work being undertaken and to share ideas.
The Heritage Park and its transformation would not have been possible without the committed team of workers doing the actual work on the site including Vincent Goodrige, Adnogis Matthews, Sinclair Grant, Jimmy Pope, Ariel Shallow, Julian Benjamin, Leroy Christopher, Dorville Thomas, Patrice Andrews and Thelma Delicia.
The site has been visited by some of the children with teachers and a Peace Corps volunteer from the Biabou Methodist School who planted a bay tree to commemorate the visit and by a group of members from the Arnos Vale Covenant Assembly church who used it as a family picnic area in June earlier this year. Visitors from England also enjoyed it as well individuals from Canada and America. There was also a volunteer who assisted for a few days from Germany.(contributed by Claire Shepherd)