Posted on
Charmine Walters steadfast on her constant pursuit of excellence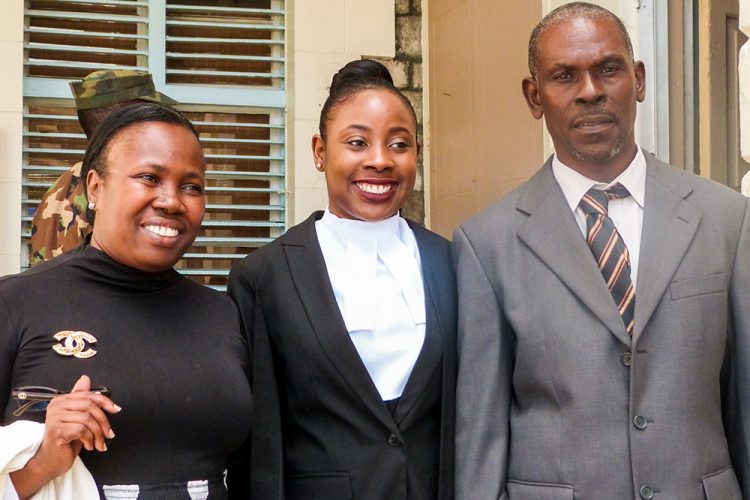 New attorney Charmine Walters could not stop her emotions from overflowing last Friday, as she thanked her late grandfather for making her five year journey to the Bar financially possible.
In fact, Walters spent most of her maiden address after being admitted to the Bar of St Vincent and the Grenadines, thanking those that helped her on her journey.
The 29-year-old, who gained her Bachelor of Laws from the University of Guyana, and then competed among hundreds of students to become one of the top eight students to secure a spot at the Hugh Wooding law school in Trinidad and Tobago, was supported in her application by Emery and Samantha Robertson, of Robertson and Robertson law chambers.
"Her attitude is one which will encourage any person to have her as their solicitor. She's willing to learn, she's willing to do her research, she has been properly brought up, in my opinion," veteran lawyer Emery declared to Justice Brian Cottle.
Counsel Samantha recalled that she was so impressed by Walters when she read her qualifications, that she (Samantha) decided to given her an interview in December 2018.
At this interview, she "there and then offered Ms Walters a position with Robertson and Robertson, commencing in October 2019."
Saying that there was no hesitation seconding Walters' claim, Samantha stated, "I have found Ms Walters to be a person of great humility, who is willing to listen, who takes advice, and has demonstrated qualities that we hope that everybody who practices law would have."
In her speech, Walters noted that she has been allowed to shadow counsel Samantha for five months, and has been offered a position as a junior attorney at the Robertson and Robertson chambers.
"I must give thanks to her (Samantha's) embarrassingly kind and generous words when I fail at times to put on my big girl shoe and thinking cap as an attorney. It is because of those words I am learning to become a competent attorney, so as to effectively represent my clients interest," the fledgling attorney stated.
Walters also thanked Emery Robertson, "who often sharpens my mind with his wealth of experience and knowledge of the law" and encourages her with his words.
The young counsel remains most grateful to God, evidencing her faith through quoting her favourite bible scriptures that have lent her strength.
"I would love to give thanks and my appreciation to my parents, Kenrick and Denise Walters and my grandmother Hazel Isles for their unwavering support," she said, thanking them for their strength and answering her calls "even if it means I am just calling for money."
"Although he is outside the earth's realm, I would love to acknowledge my grandfather Lennox Lewis for making this proud moment possible," she continued.
"Without his financial support this journey would not have been possible," she said before she was forced to pause momentarily due to being overcome with emotion. "His constant reminder to ignore success and pursue excellence kept me steadfast. I do hope he is looking down with pride and admiration," she continued after regaining her composure.