Posted on
Cuban and Vincentian musicians pay tribute to Cuban Culture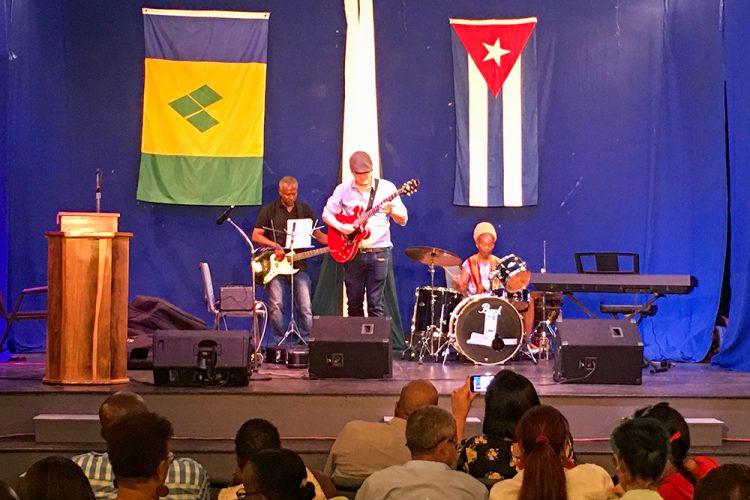 The strains of Cuban music filled the air Tuesday, October 22 as locally-based Cuban musicians and their Vincy counterparts paid tribute to the Day of Cuban Culture. Celebrated locally for the first time, the concert, jointly organized by the SVG Guild of Graduates of Cuban Universities in collaboration with The SVG Cuba Friendship Society, was billed as an evening of music, poetry and song.
The Day of Cuban Culture is celebrated annually in Cuba and marks the day when the Cuban National Anthem, called the Bayamesa, was first sung during that country's War of Independence from Spain on October 20, 1868. Since then, each year, that date is celebrated in Cuba as the Day of Cuban Culture with cultural performances across the nation of 11.5 million.
The concert, held at the Peace Memorial Hall in Kingstown saw sterling performances from top Vincentian musicians who have all performed in Cuba, as well as professional Cuban musicians resident in St Vincent & the Grenadines. Musicians performing included the iconic Ken Isles, who opened with "Besame Mucho", an internationally famed Cuban standard, followed by Cuban and Vincentian-by-marriage pianist and musicologist Zahily Sariol Laidlow. Violinist Darron Andrews thrilled the near-packed hall with two pieces, including the Cuban international chart topping song "Bailando", while locally based Cuban music teacher and guitarist Rey Escobar and his Trio -featuring Joffe Venner on bass and Roger Mwata Rose, drums- demonstrated why they are a fixture at Mustique and other events with their Latin Jazz.
Each musical performance was interspersed by testimonials from The Guild of Graduates of Cuban Universities, delivered by Registered Nurse Osherna John, Renwick Rose of the Friendship Society, Arianna Taylor Israel representing Cuban residents, Ambassador of Cuba Vilma Reyes Valdaspino, Senator Kay Bacchus Baptiste for the Parliamentary Opposition and a personal message from former minister of Culture and Speaker of the OECS Assembly Rene Baptiste.
Two magnificent readings of poetry were delivered by Cuban pharmacist Nuericel Fonseca and Cecil Blazer Williams, who has been a judge of the prestigious Latin American and Caribbean Casa de las Americas Literary Competition in Havana.
The concert was billed as a gift to the Vincentian Nation on the 40th Anniversary of Independence from the Friendship Society and the Guild of Graduates of Cuban Universities with the collaboration of the Cuban Embassy.