Posted on
Vincentians in Toronto launch Disaster Preparedness Group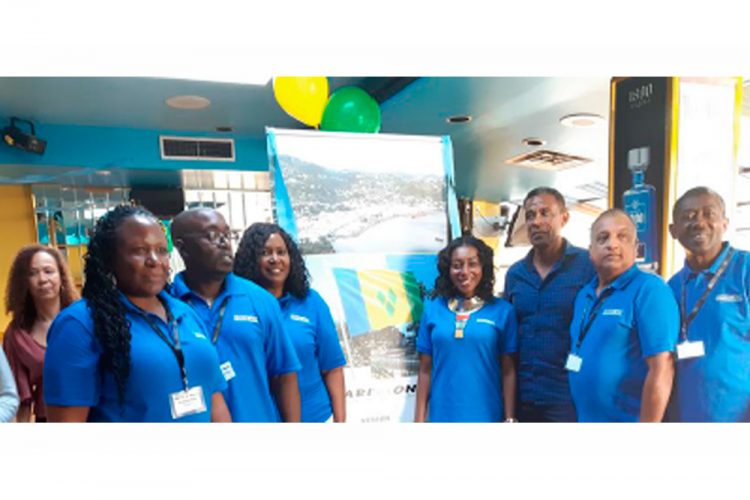 Following months of preparation and discussions, a group of nationals of St Vincent and the Grenadines (SVG) in the Toronto Region launched CARI-ON, the acronym for Conducting Active Relief Impacting Our Nation, a committee to allow Vincentians in Toronto to prepare the community to respond to any disaster that may strike and affect SVG.
The CARI-ON team comprises Andrea Jones; Hayden Jones, Chair; Melba DaSilva, Vice-Chair; Andrea DeSilva, Communications Director; Consul General Fitzgerald Huggins; Hassan Perreira; and Gideon Exeter.
The launch took place at Windies Restaurant, a popular Caribbean owned and managed facility in Scarborough on Sunday, September 22. This committee is the third of its kind launched in the Caribbean community here in Toronto and is part of an umbrella organization called Canadian Caribbean Disaster Relief Action (CCaDiRA) which is to coordinate disaster preparedness, relief, emergency and response activities between the Caribbean Diaspora in Canada and the Caribbean Region.
A group of just over 50 persons attended the launch which heard a number of addresses. Rahul Singh of Global Medic spoke about his organization's work in reaching countries affected by disasters within a short period of time. Singh noted that Global Medic is a registered Canadian charity, and its mandate is to save lives by providing short-term, rapid response in the wake of disasters and crisis, both at home and abroad.
"The keyword is rapid, as you might expect from an agency that was founded by paramedics. Global Medic is often the first team, and many times the only one, to get critical interventions to people in life-threatening situations following a disaster. This is what we are known for in the world of humanitarian disaster response".
Global Medic achieves this through a well-developed Emergency Program and it's internationally deployable Rapid Response Team (RRT).
Consul General for St Vincent and the Grenadines in Toronto, Fitzgerald Huggins was the featured speaker who addressed the effect that climate change is having on the world today. Shelley John, Director of Sales for SVG Tourism provided an outline of her division of government in promoting St Vincent and the Grenadines as a tourist destination in good times and even during when disasters affect the country. Hayden Jones, chairman of CARI-ON outlined the functions and purpose of his organization which currently has nine active members but is hoping that others will see the benefit of becoming members. Also addressing the occasion was Gideon Exeter, Interim Chair of the Canadian Caribbean Disaster Relief Action Committee (CCaDiRA). Exeter explained how his umbrella organization is intended to represent the Caribbean Community here in Canada to coordinate with all partners in disaster preparedness and relief in the Caribbean and here in Canada.
The attendees were treated to a free meal but were encouraged to make donations to help offset the cost of the event and to contribute to the appeal to assist the people of the Bahamas who are trying to deal with the devastation caused by hurricane Dorian.
For more information on CARI-ON: visit the website, www.carionsvg.org, email at [email protected], through Facebook at https://facebook.com/carionsvg/ or IG @carionsvg.
Andrea DeSilva, Communications Director CARI-ON.