Posted on
Siblings to participate in 40th anniversary Independence parade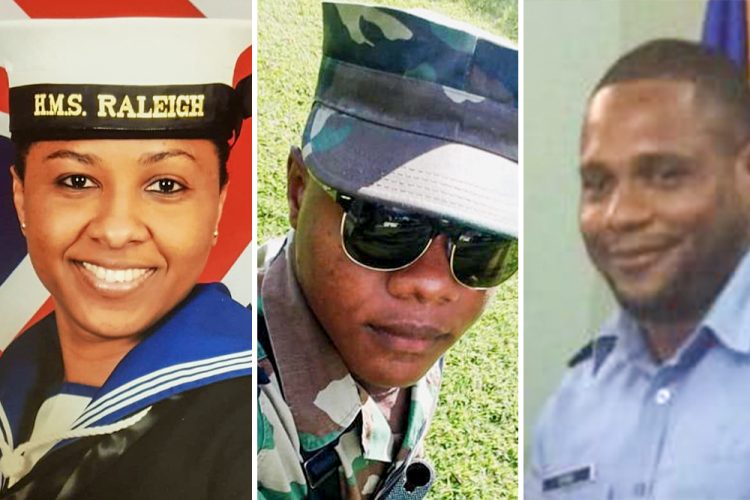 Three siblings, members of three different disciplined organisations, including the Royal Navy, will this Sunday take part in the parade to mark St Vincent and the Grenadines's (SVG) 40th anniversary of independence.
The three, coast guard officer Alexis Bynoe, Special Service Unit (SSU) officer Dion Bynoe and Zonel Bynoe of the Royal Navy, all from Canouan, will have the rare opportunity of being in the national parade together.
"I feel proud that I am included in this year's celebration and even more honoured to be doing it with my siblings," Dion told SEARCHLIGHT on Wednesday.
He said he has been in the Royal St Vincent and the Grenadines Police Force (RSVGPF) as an SSU officer for two years and he chose the career path as he wanted the opportunity to assist with law enforcement.
Alexis, in the coast guard for 15 years, said a few weeks ago, his sister called and asked if he was going to be in the parade and he said no.
He added that she explained that she was coming to SVG with a group of other Vincies who are enlisted in the British Navy and they were going to be a part of the parade at the Victoria Park.
"So, I asked to be in the parade and that is how I went on it. Things worked out for the better," said Alexis who noted that his brother had already been slated to march with his contingent.
"This makes me feel proud. I was telling mommy about it. It is something we should cherish because I think this is one in 100 times this will happen," Alexis said.
He said he and his siblings grew up in the Grenadines and they always liked boats, so when he decided to enter the RSVGPF and his younger brother saw he was in the coast guard, he joined a few years after and has been in the SSU for two years.
Alexis revealed that his sister enlisted in the British Navy last year as she wanted to broaden her horizons and study. She is now a writer in the British Navy and will be on parade along with her brothers this Sunday.