Posted on
Invest SVG launches 'Everything Vincy 2019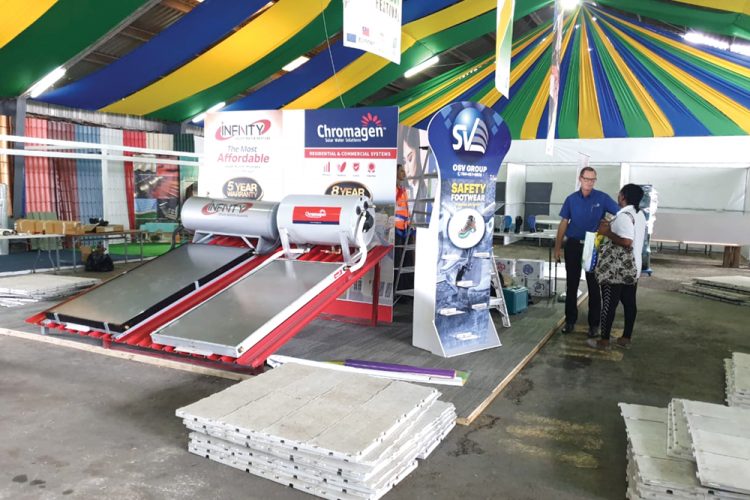 Taking part in the Everything Vincy Expo has proven beneficial for many of the businesses that get involved.
Executive Director of Invest SVG Annette Mark told SEARCHLIGHT yesterday, amidst last minute activities at the Geest terminal in preparation for the opening of the 2019 Expo, that last year when they did their 'Lessons Learnt Check' and a survey, it was found that many businesses saw increased sales after the expo.
She said the expo attracted buyers from the Grenadines who found products they didn't know were sold here while some of the bigger businesses told them sales between October and Christmas went up.
"…And they didn't expect that," said Mark who noted the expo moved from 44 booths in 2017, to 128 booths last year and now 144 booths.
She said the main purpose of the initiative is to showcase Vincentian products and services available to the world and locally.
Mark noted also that the expo encourages persons to buy local and encourages entrepreneurs to grow their businesses to a point where they can start exporting regionally and later internationally.
Tables at the Expo cost $350 while booths are $1000. Products on display range from industrial items to products from smaller cottage industry and medium size businesses.
The Expo opened to the public Thursday evening and will run until October 30. There will also be live entertainment each day.
Tomorrow Saturday, October 26 has been dubbed "Soca, Salsa and Steel pan", and will feature performances from Soca artistes and the top three steel pan sides in the country.
There will also be an international food day where the various embassies will provide native dishes while the national new song competition finals will be held on Sunday, October 27, Independence Day.
Also, on Sunday, 12 local fashion designers and two international designers will display their designs. The winning national dress from the Invest SVG design competition will also be unveiled.
On October 28, a national holiday, "Gospel in Glory" will take place with a number of national choirs taking part to celebrate this country's 40th anniversary of Independence.
October 29 is dedicated to this country's musical maestros and will include performances by pannists, Rodney Small and Saeed Bowman; violinist, Darron Andrews and the musical maestro, Frankie McIntosh.
Wednesday is the day for 'From Bequia with Love', when the band, Infinity will provide entertainment all afternoon and then in the evening, there will be the closing ceremony during which awards will be presented to expo participants.