Posted on
Vincentian visual artist holds solo exhibition at NOW gallery in the UK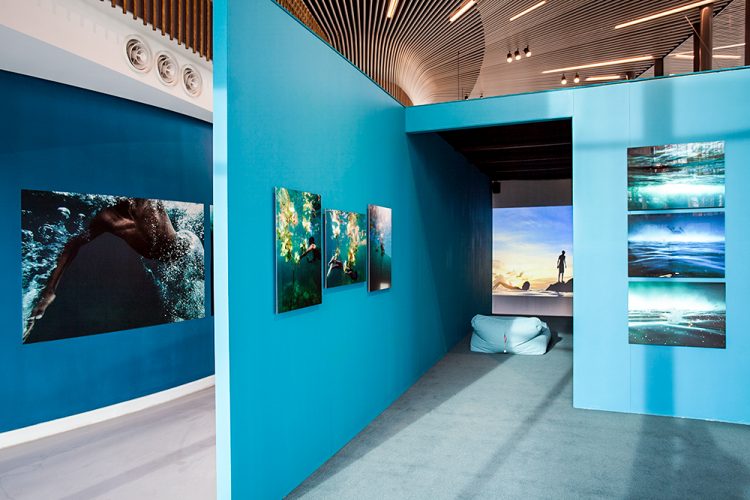 NOW Gallery in North Greenwich, United Kingdom will, until November 10, present a solo exhibition of photographs and films captured in St Vincent and the Grenadines by Vincentian visual artist Nadia Huggins.
The photographic and filmic exhibition, which opened on October 4, is titled 'Human Stories: Circa No Future' and navigates the boundaries between land and sea, celebrating the relationship between adolescence, and the infinite power and freedom of bodies in the ocean.
Human Stories is Huggins first UK solo exhibition. It is part of a series of annual photographic displays that encourages a contemporary discourse on modern life and the human scale. By engaging with modern and progressive communities, artists, photographers, historians, filmmakers, writers and thinkers, Human Stories translates these messages into compelling visual displays.
To accompany Circa, No Future, which documents intimate scenes of young males framed by dramatic coastal landscapes, NOW Gallery has commissioned a series of critical essays by Trinidad and Tobago-based writer Melanie Archer and William Abbott, a teacher from St. Vincent and the Grenadines, to create a stimulating display that will expose the viewer to the power of the ocean juxtaposed against communities who are most entwined by it, and view it as a safe yet unpredictable space for being.
Huggins, 35, who has exhibited around the world, including the USA, Jamaica and Ethiopia, is best known for work that merges documentary and conceptual practices that explore identity, memory and belonging through the landscape and the sea. Presenting work that has never been seen before, Circa, No Future will personify the ocean, demonstrating its role as a constant for those who are immersed with it, celebrating the evolution from adolescence to manhood through both endurance and innocent vulnerability. Huggins beautifully captures a youthful camaraderie and spirit whilst exposing an undercurrent of vulnerability in her subjects, and communicates an irradiated border between deep submergence and spectral surfaces.
"We're delighted that NOW Gallery will be Nadia Huggins' first showcase in the UK. This body of work reveals the spellbinding, infinite beauty of the ocean whilst celebrating the preciousness of coming of age," says Kaia Charles, Cultural Projects Manager of NOW Gallery and Greenwich Peninsula.
On her upcoming and first UK Solo exhibition at NOW Gallery, photographer Nadia Huggins, comments: "Believing there to be a link between an under-explored aspect of Caribbean adolescent masculinity and the freedom of bodies in the ocean, I have decided to creatively document boys' interaction with the sea. These pieces capture manhood, snippets of vulnerability and moments of abstraction, that often go unrecognized in the day-to-day. The ocean itself takes on a personality – that of the embracing mother providing a safe space for being – which is both archetypal and poignant. I am as much a subject as the boys for whom I provide solace. The boys climb a large rock, proving their manhood through endurance, fearlessly jump, and become submerged in a moment of innocent unawareness. They emerge having proven themselves. The relationship between myself and the subject is also explored within this paradigm. The subjects are aware of me while posturing but lose this cognizance when they sink into the water. It is this moment that tells the true story."
Admission to the exhibition is free.
See more of Huggins work at nadiahuggins.com; instagram.com/nadiahuggins/
More information on NOW gallery may be had at: www.nowgallery.co.uk