Posted on
'You are the problem-solvers in today's society'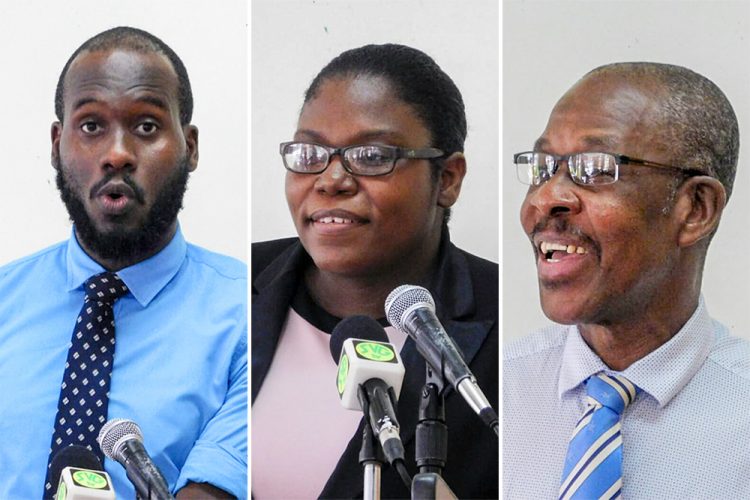 Participants in this year's National Science and Technology Fair are being called on to be the problem-solvers in today's society.
The national science fair is slated for November 11 to November 15, under the theme "Turning problems into opportunities using scientific strategies". Persons entering this year's competition have a chance to win prizes amassing EC$15,000 across 10 categories.
"This theme is fitting for the world we live in today where we wish for citizens to develop their critical thinking and problem-solving skills," Jaunita Hunte-King, the education officer for Science said at the official launch on Monday.
She said it is the hope that the theme "will encourage more persons to look at problems or situations through a lens of optimism and rather than seeing a problem as a crushing weight, see it as a tool to catapult you towards success".
Hunte-King said the fair is open to students from the Grade K level upwards, and to the public.
And the education officer encouraged persons to participate as well as attend the fair once it opens on November 11.
"We expect that persons who visit this fair will see creativity and innovativeness, they will be inspired by the projects that they may even want to implement some of them. They will be encouraged to look at life's lemons more optimistically…" she said. "…Come and see how some of our local problems can be solved, using scientific strategies. Who knows, maybe one or two will be good enough to be implemented."
The categories of the fair are; agriculture, computer science and robotics, biology and environmental science, behavioural and social sciences, chemistry, explanatory models and drawings, food science, mathematics, physics and engineering. There is also a "Go Creative" category.
Sheddie Conliffe, president of the SVG Science Teachers' Association, said that the association has been helping to organise and execute the fair, using a number of strategies.
"We have made it a regulation that if schools want to enter the fair, then they must have an internal fair. This is so that the projects will be vetted before they come to the national fair, so that at the national fair, all you'll be getting is the best of the best. So when you actually turn up to the fair, what you will be seeing is the cream of the crop, so to speak," Conliffe said.
The president stressed that the deadline to submit applications for entry into the fair is November 1.
And he encouraged persons who have not yet submitted to do so as soon as possible, because "after the deadline has passed, no projects will be registered".
St Vincent Electricity Services (VINLEC) are the sponsors of the national science fair.
Thornley Myers, VINLEC's chief executive officer, in his remarks, commented on the value of science in the development of this country.
He said that there was a shortage of engineers in SVG.
"i proffer that we ought to be more focused and direct in our investment in education to manage obligations. Perhaps we need to be more focused and direct in our investment in science and technology. The future belongs to science. Technology drives everything," Myers said.
Chief education officer Elizabeth Walker also delivered brief remarks at the opening ceremony.
The National Science and Technology Fair will be held at the decommissioned ET Joshua airport in the terminal building, beginning at 9 a.m. each day.