Posted on
SVG delegation returns from fruitful study tour in Dominica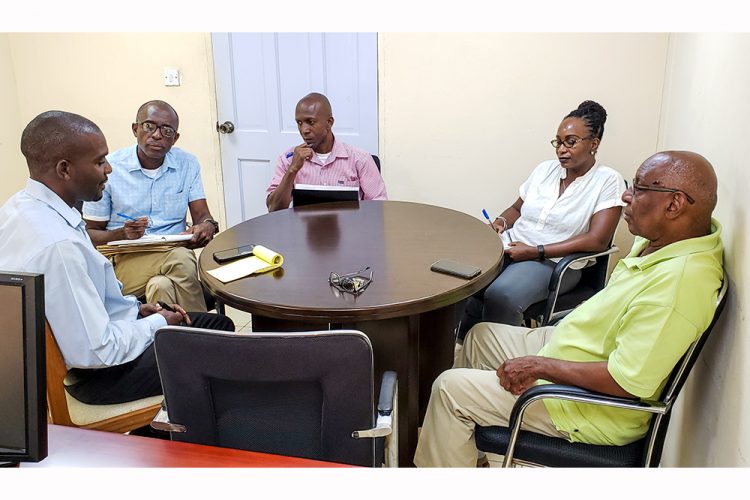 The Inter-American Institute for Cooperation on Agriculture (IICA), through its horizontal technical cooperation strategy, continues to support the efforts in the Eastern Caribbean States, to build their Agricultural Health and Food Safety Systems.
Through this strategy, and over the last several months, IICA has supported technical collaboration among St Lucia, The Commonwealth of Dominica and St Vincent and the Grenadines (SVG) for the development of their food certification systems. In the latest initiative, a delegation from SVG participated in a study tour to Dominica, October 7-9, 2019, to gather information – through visits, interviews and meetings with stakeholders – on that country's ongoing investments in the development of its food certification system. The delegation included Rodwell Charles, Agricultural Instructor, Ministry of Agriculture, Haydeen Charles of the SVG Bureau of Standards; and Michael Dalton, Technical Specialist from the IICA Delegation in SVG.
In Dominica the team was able to meet and interact with senior stakeholders in Dominica's food system, including officials of the Dominica Bureau of Standards, the Ministry of Agriculture and Fisheries, Dominica Export and Import Agency (DEXIA) and the Dominica Hucksters Association. The delegation also toured Dominica's new diagnostic facility designed to provide the analytic support to food industry businesses, and the pack house facilities of DEXIA at Roseau and Portsmouth, which provide handle agricultural produce destined for export.
According to Haydeen Charles of the SVG Bureau of Standards, "The study tour was quite fruitful, since we were able to learn a lot from our counterparts. This study tour will enable us to further implement aspects of our certifications system."
Michael Dalton, IICA's Technical Specialist, stated that IICA views its support to the development of Agricultural Health and Food Safety Systems in the ECS as one which should be consolidated on a multi-country platform. This, he posited, is based on similar demands from several of the countries and a need to encourage synergistic arrangement across institutions in the OECS and the wider Caribbean Region. In this regard, the IICA Delegations in SVG, St Lucia and Dominica are currently implementing a project to further this collective agenda. SVG is also providing additional support to this effort through a Rapid Response Action (RRA) which facilitated the study tour.