Posted on
SVG, Barbados are public health champions of the Caribbean – UNDP rep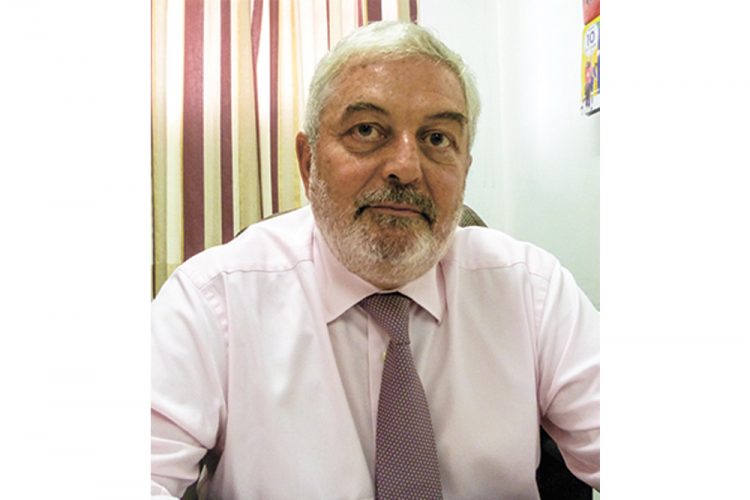 The new United Nations Development Programme (UNDP) resident representative to Barbados and the Organization of Eastern Caribbean States (OECS) Magdy Martinez-Soliman, made his first visit to St Vincent and the Grenadines (SVG) this week, meeting with Prime Minister Dr Ralph Gonsalves, Ministers of Government, Judges, security forces and a wide spectrum of persons.
In an interview with SEARCHLIGHT on Wednesday, Martinez-Soliman explained that he was "on a listening mode" during this week of introductions.
The diplomat, who arrived in the country on Monday, October 14, presented his letters of credence to the Prime Minister on Tuesday, which is the formality presentation through which he is accredited before the Government.
"The meeting with the Prime Minister, it was a fantastic meeting because it was with him, and the Foreign Minister [Sir Louis Straker] and the Minister of Finance [Camillo Gonsalves] were present as well. So it was really very engaging, scintillating conversation," the diplomat informed.
The meeting was also a practical one, he stated, during which "we agreed on half a dozen follow-up actions that we will now work on."
While Martinez-Soliman has served as the UNDP resident representative for other Caribbean countries which has allowed him to learn a bit about the history, politics and economy of the region, he recognizes, "It's another world, it's a different Caribbean, in a way."
Therefore, his concern this week is to meet as many persons as possible, including, "judges, people from the security forces, people from Government, people from civil society, people from different walks of life, so that they tell me how they see the challenges and the successes of St Vincent at present and for the future."
Martinez-Soliman's and the UNDP's global mandate and for SVG as well, includes four priority areas. These include helping Governments to implement social policies that will help to erase poverty, and supporting policies that combat climate change, and being the first responders which help on a road to recovery after disaster.
"My fourth priority is everything that has to do with governance, economic governance and institutional governance," he explained, "the justice system, the security, the Parliament, the local authorities, anti-corruption, human rights in development, you name it."
Specifically, the resident representative mentioned some of his impressions of St Vincent's progress in development, based on his analysis of facts and figures.
"First, you have a $1.2 billion economy which is a fairly sufficient economy for the size of the population, and of the land mass, and the Government does a good job of recovering revenue, because it recovers around 24 percent of GDP," he explained.
This gives the Government the possibility of doing many things, he noted.
Among those things that they are doing well, Martinez-Soliman commented, is that St Vincent is the "public health champion of the Caribbean with Barbados."
"You have better public health, and better public health outcomes than many others," he stated, "Because you have more beds per inhabitant, because your life expectancy is longer, because your child mortality is low, because your ante-natal care is excellent, because almost every birth is professionally assisted by a healthcare professional."
He noted that he hears there will be progress in this area as well, with the building of a reference hospital.
Further, he said that St Vincent is only below Antigua and Barbuda in taking care of the elderly.
"You are above 70 percent of people with a pension, with an income, and you have an assistance pay for the old people who have nothing else, which over the past say 20 years, has increased 30 percent every year," he explained.
On the flip side, he stated that the country needs to "do some efforts in the education system."
The drop-outs from Primary School are at around eight percent, he commented.
"You need to look at the connection between the education system and the labour market, because there's a problem there. There's too many young people who take a long time in finding their first job, or a job that will satisfy," Martinez-Soliman informed.
Another issue that the diplomat observes is that there is a low rate of penetration of internet in the school system. "So only 60 percent, 65 percent of the schools are connected to internet, which is low for the Caribbean… it should be around 80 percent," he noted.
There is no infrastructural reason why this should be so and the only reason lies with expenditure and investment, he explained.
"That is important, because schools absolutely need to be connected to internet. So there, there's room for improvement," Martinez-Soliman concluded.
He mused, "Yes, there are challenges, no question, and that's a little bit why I am here and why I think I can be of service."
While he is the UNDP resident representative for seven countries and three overseas territories, he stated that he wishes to visit SVG quite frequently in the future.