Posted on
PM Gonsalves defends SVG's Public health care system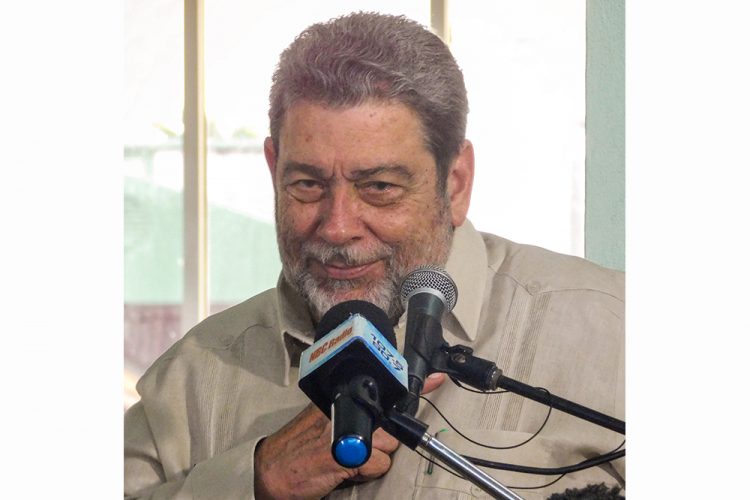 Prime Minister Dr Ralph Gonsalves thinks that the health system in St Vincent and the Grenadines (SVG) is sound.
"The health system in St Vincent and the Grenadines is not perfect, but…, if we truncate it in different areas, we can say our public health system is very good," Gonsalves said while speaking at the launch of the Charter of Patients' Rights and Responsibilities at the Milton Cato Memorial Hospital (MCMH).
"Our primary or community health service is good. Our secondary health care system is sound, with some gaps and our tertiary health care system requires further strengthening," PM Gonsalves said on Monday.
Gonsalves added that in each particular area of the disaggregation of our health care system, when we look at the major health indicators you would see that our system is on good footing.
"In fact, our health system is at a level which, comparatively across the world, is of a good quality," Gonsalves further added.
Giving what he considers basic indicators, the PM said that the single most important requisite in a sound health system is water.
"On St. Vincent where we have a lot of rainfall and rivers, we have arguably the best delivery of quality water in the Caribbean and one of the best in the world," noted Gonsalves who added that 98 percent of the population has quality and very affordable pipe borne water.
He noted that in 2001, you had 70 percent of persons on the mainland with pipe borne water and his government carried out large scale connections free of charge.
Going on, the PM said another basic indicator is garbage collection and disposal and 20 years ago only Kingstown and surrounding areas had garbage removal.
He added that at Arnos Vale in the vicinity of the then airport, a garbage dump was the first thing that tourists saw when they flew into SVG.
He said that when his government got into power, before the end of 2001, they introduced a new garbage collection system, and started collection services from Fancy in the north-east to Fitz Hughes in the north-west once a week at a reasonable price. Garbage collection in the Grenadines is now done twice a week.
Further strengthening his claim of a sound health care system, the PM said that in SVG, immunization of children under the age of five is statistically at 100 percent.
He said there are some states in the United States of America (USA) where only about 70 percent of children under five are immunized and that has created problems in the past.
"Here once a child is in school, the law is you have to have your immunization certificate," said Dr. Gonsalves.
The PM also spoke about a low percentage of maternal deaths, which he puts at zero. He added that at times, we may have one maternal death per year, while infant mortality is below 15 per 10,000.
"Not as low as Cuba, which is below 10, but it is a good number and we trying to bring it down," Dr. Gonsalves noted while adding that the figure was once in the high 20s.
He noted also that statistics show that the average life span of a Vincentian male is 74, while the life span of a Vincentian woman is 75.
"These are the unvarnished facts before us," stressed Gonsalves while adding that as it rates to spending money on health as a percentage of the Gross Domestic Product (GDP), SVG tops the chart in CARICOM.
He said that annually 8.6 percent of GDP is spent on health care here. Other stats show that in the Bahamas the number is 7.7 percent, Haiti 7.6 percent and Barbados 7.5 percent.
"It does not mean the money we spend is more but as a percentage of GDP," said the PM who added that the nearest country to us in this category is St. Lucia at 6.7 percent, while the others range between 5.1 percent and 6.1 percent.
He revealed that for 2019, the government is expected to spend $83.2 million on health, 110 percent more than the $39.7 million spent in 2001.
PM Gonsalves said that persons measure the health system on the basis of what happens at the MCMH, so it must be noted that in 2001, $11.1 million was spent on the MCMH, up to nearly $25 million today.
He said the hospital is an enterprise that today employs 614 workers, 122 or 35% more than in 2001. In 2001 there were 51 doctors, up to 88. Of these doctors, 19 are consultants (15 in 2001), nine are senior registrars (six in 2001), 14 registrars (six in 2001), 25 medical officers (15 in 2001). There are 410 nurses, up from 332 in 2001 (198 staff nurses, up from 120 in 2001).
"I want to tell you, at a hospital of just over 200 beds the number of doctors to the beds is a comparatively good number," Gonsalves said.
He however noted that the issues at the MCMH comes as the resources need to be managed better. To address this issue, the government is looking to employ a Chief Executive Officer (CEO).
The PM also noted that the health sector here is boosted by the Modern Medical and Diagnostic Centre in Georgetown and the World Paediatric Project (WPP), while plans are underway to build an acute referral hospital at Arnos Vale.
The design work for the Arnos Vale project is expected to be submitted by the end of this month. The site was selected by the World Bank and the facility is expected to have 132 beds to be built at a cost of US$50 million.
The PM also said that the country has made strides in community health care through clinics and other facilities.
He said that community health services in 2001 amounted to $4.9 million and in 2019 that figure is $13.9 million, with personnel attached to these facilities in 2001 being 176, up to 353 into 2019.
These workers service 39 clinics and three polyclinics, including facilities in the Grenadines.