Posted on
Six to vie for Miss Young Mothers 2019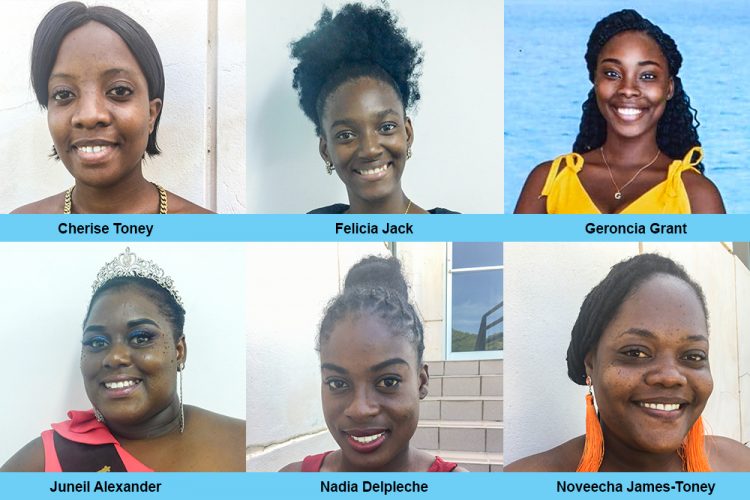 Contestants vying for the title of Miss Young Mothers 2019 are hoping to send a positive message and words of affirmation for young mothers in St Vincent and the Grenadines.
The show, which is slated for October 25 at the Layou Hard Court, will see six young mothers competing for the title and a number of other prizes.
The contestants this year are; Nadia Delpleche, Miss Carnival; Noveecha James-Toney, Miss Emancipation Day; Cherise Toney, Miss Heroes Day; Felicia Jack, Miss Independence; Geronicia Grant, Miss Christmas and Juneil Alexander, Miss Easterval.
Miss Carnival, Nadia Delpleche told SEARCHLIGHT that her four-year-old daughter encouraged her to enter the pageant.
"I'm a young mother and I love myself. I am very vain, so I've had friends come and tell me 'i think you should enter the Miss Young Mothers pageant. I was like I don't really think so, then my four-year-old was like 'Mommy, go in for the queen show'. I was like 'are you sure?' And she said yes, you go win. So just imagine a four-year-old telling you to go in for a queen show and she knows you can win. So my motivation was right there," the Rillan resident said.
Noveecha James-Toney, Miss Emancipation Day said that she considers this pageant to be the next best thing after Miss SVG, as she did not have a chance to enter the national pageant after giving birth to her first child.
The mother of two is the reigning Miss SVG Plus Size and has several other international pageant titles under her belt.
But despite being no stranger to the stage, the vocalist and chef said she is still nervous.
"I am nervous because it is a competition, so you cannot be too overconfident. You just have to go and be brave and do your thing," she said. "Expect nothing but talent, beauty, a little humour in between and expect to be wowed when coming to see me performing for the entire night. Each category, I'm coming very hard."
Cherise Toney is a mother of two boys and said that her children motivate her "to push more so that I can provide for them and give them the strength to grow".
She said that this pageant is a way for her to build self esteem and be more bold and brave.
"To the young mothers out there, I must say to you, be strong. Give your sons or daughters a good self esteem, be positive always and always look ahead for storms, and know that you can overcome it," the 22-year-old said.
Layou resident, Felicia Jack describes herself as a proud and independent mother, who loves her son very much.
"Being a young mom, there is a lot of criticism, when you're a mother, your future end, you'll have no confidence, no self esteem so I'm entering this pageant to show the communities that being a mother is not the end of the world. We have beauty still, we have confidence, our self esteem is still there. I want to put out a message to them," she said.
The 21-year-old won the Miss Central Leeward pageant in 2015 and she said that she wants to take home the title, so she is working very hard to prepare for all segments of the competition.
Talent, brilliance and grace are three things that 20-year-old Geronicia Grant is promising to all patrons on the night of the show.
She said that she chose to enter the competition to gain experience, as this is the only pageant that women with children can enter.
And like many of her other contestants, the mother of two girls — a 2-year-old and 10-month-old — has some words of encouragement for young mothers in St Vincent and the Grenadines.
"I want to tell them is not because they have kids means the world stops there for them or they have to limit what they do with their life. If there is something they want to achieve, they don't have to sit down and wait on a man to give them. They can get up, go out, find a little job, maybe selling provision, or like me, working in a supermarket. Make your own money and fulfil your dreams," Grant said.
Many may know Juneil Alexander from her Soca Monarch performance this year when she performed 'Bike Life' in the soca monarch competition.
When she isn't blowing up the stage as a soca artiste, the 25-year-old spends her time with her "two handsome princes".
She said that her entering the Miss Young Mothers pageant is a way of proving to young girls that life doesn't end after giving birth.
"Even though you are a single mom and struggling, there are other ways you can try and boost your confidence. You can try and boost your self esteem. Don't ever say never. Always believe that you can do it and always believe that there is a dream for you. Set a standard and you will be able to accomplish this dream," Alexander said.
All six ladies are encouraging all of St Vincent and the Grenadines to come out and support them on the night of the show as they promise that it will be a show to remember.