Posted on
Spouses of heads of government have duties to perform on overseas trips – PM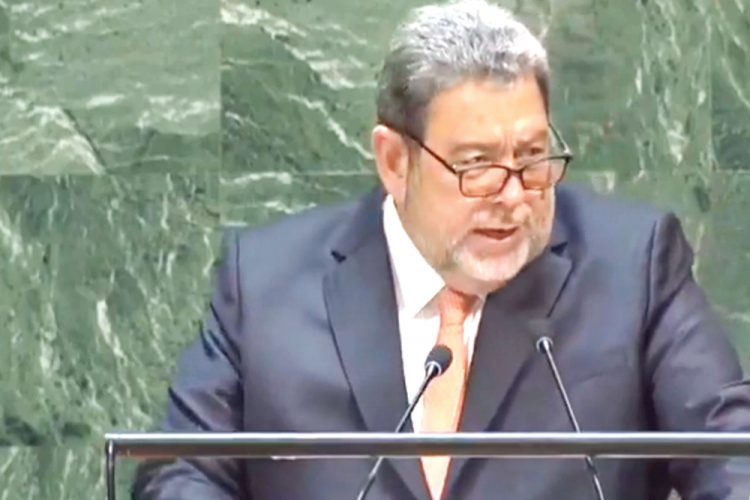 Spouses of heads of government have duties they are expected to perform, which is why they sometimes travel with their husbands or wives.
"You would hear some things on the radio, and I would just shake my head to see the level of immaturity of people," Prime Minister Dr Ralph Gonsalves commented on Monday while speaking at a press conference at Cabinet Room.
He said sometimes when his wife Eloise accompanies him on overseas missions, people sometimes say his wife is not employed by the government and she should not go with him, or she should only accompany him if he is paying for her trip.
"Well I guess the other prime ministers, heads of state and government whose spouses travel with them, that they don't have anything to do with anything either," said Gonsalves.
The Prime Minister said there are spouses' programs and issues which spouses address and his wife's latest trip abroad with him saw her addressing an initiative dealing with health. He added that she has also in the past addressed the issue of climate change.
In 2011, nine years after being sued for slander, radio host Elwardo Lynch (deceased) and BDS Limited were ordered to pay Prime Minister Gonsalves damages and costs totalling $190,000, plus interest. The ruling came after Lynch was sued in 2003 for a defamatory statement he made on August 14, 2002, while hosting a New Democratic Party sponsored radio programme on Nice Radio – which is owned by BDS Ltd. He lost the appeal.
He had claimed that Gonsalves, who was accompanied by his wife, mother and daughter on a trip to Rome to see the Pope, had used State funds to purchase the tickets for his mother and daughter.