Posted on
Voice and Vision Concert shines a little light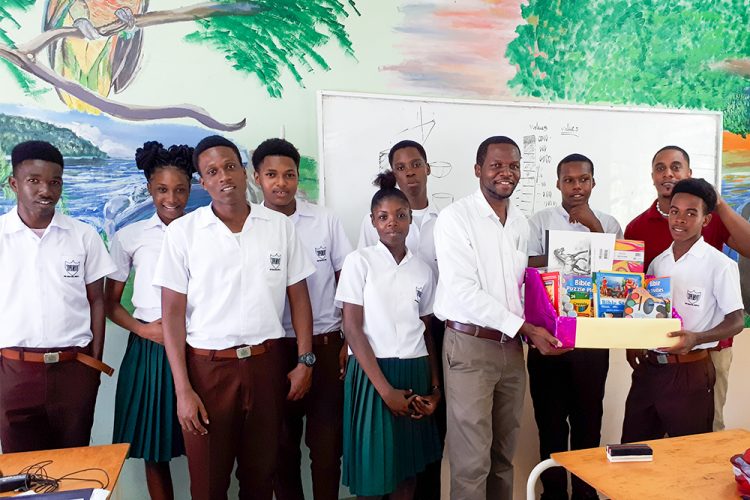 In keeping with one of its key objectives of reaching out, the Voice and Vision Concert is giving back.
The concert producer and director of Virtue Arts Ventures outreach, Anthony Patterson, made presentations to three secondary schools on September 17 and 20. He did so along with cast member and 2018 concert co-host Edmira Walker. 
Virtue Arts Ventures (VAV) Christian Outreach seeks to impact the community through positive contributions via the visual and performing arts. 
Donations of art supplies, artistic devotionals and colouring books were made to Bishop's College, West St George Secondary and Dr JP Eustace Secondary School. These were well received and much appreciated by the principals, teachers and students. VAV hopes to do more as they grow. 
Patterson observes that there is great need and potential for positive development of the artistic and creative potential within our young people. This potential, given the right values and guidance, can be a great force for good and for positive societal change. This is especially so in light of various social challenges such as crime and violence, sexual abuse and indecency, substance abuse, mental health disorders and juvenile delinquency. VAV believes that visual and performing arts, if used properly, can be very effective in addressing various social issues. 
As a Christian outreach, VAV seeks most of all to point youth to the ultimate fulfilment they can find in serving Christ and dedicating their talents to Him. 
They are soliciting the public's support once again for this year's concert to be held October 12 at the Peace Memorial Hall. Persons may visit the concert's Facebook page for details. 
This will be the third year the concert is being staged. 
Voice and Vision features spoken word poetry, drama, monologues, live art painting, inspirational and gospel music, pantomimes and monologues and art and craft exhibits. It seeks to positively impact the culture through gospel-inspired visual and performing arts.  Part proceeds from the event go towards community outreach projects including educational and counseling intervention resources.