Posted on
Dance groups exhibit talent at 2019 National Dance Showcase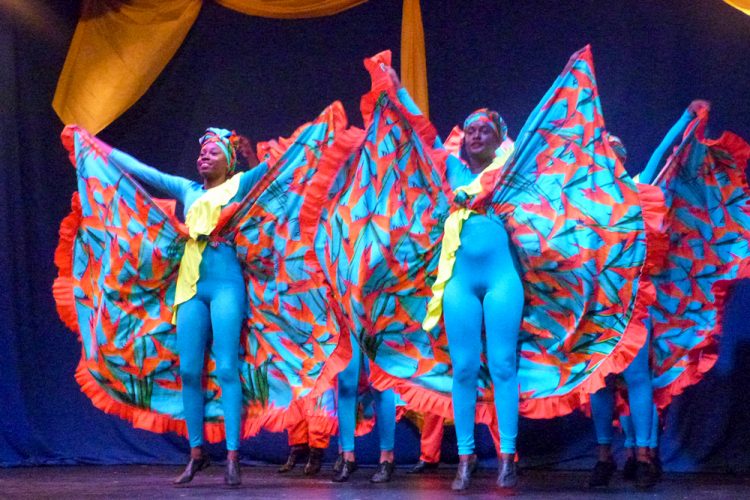 The dancers of St Vincent and the Grenadines found their rhythm on the stage at this year's National Dance Showcase, to tunes from Beyoncé, soulful drumbeats, ballads, techno and gospel.
There were few seats left in the Peace Memorial Hall on September 28, as dance enthusiasts and well-wishers piled in to see what the different dance troupes, school groups and soloists had in store for them this year at the Ministry of Culture, National Cultural Foundation(NCF), National Dance Showcase.
With 21 performances, and contemporary, folk, hip hop and social genres accounted for, there was something for everyone.
The program, put together by creative minds, refused to be monotonous. The prayer was a performance in itself, as students from the Questelles Government School mimed a song version of the Lord's prayer.
After this there were shorts speeches, the first of which was delivered by Dance Development Officer, Maxine Mavorn Browne.
As a precursor to her speech Browne had a host of senior dancers accompanying her with four drummers providing the beat. She herself, dressed in elaborate costume, joined the dancers and moved to the drums to the appreciation of the audience.
"This evening we have a packed show in store for you…'The Medley,'" Browne, who also choreographed a number of the items on the list, informed.
She promised that there would be many types of dancers on the stage that night, including junior dancers, novices who were making their grand debut, intermediate dancers and seasoned dancers.
Browne had some requests for the crowd. "We need to work together in love, peace and unity, in order to develop dance in St Vincent and the Grenadines. Let's work as one united force to build dance and uplift dance in SVG, agreed?" she stated with a reply of "Amen".
"I implore you to use your gifts and talents to develop the youths so whether you're good at folk, modern, ballet, jazz, you take the time and teach the young people what you have learnt," she asked the audience.
She hoped that the performances would encourage, because "When we have our Performing Arts Centre some day we want you to have the relevant skill sets to fill that space. One day we will get that space we need, and we pray for it."
"When the call is made for the National Dance Company we want you to be ready and willing," the Dance Development Officer stated, saying that she is working hard to have such a company in St Vincent and the Grenadines.
Wollis Christopher, the Chairman of the National Cultural Foundation(NCF), who partnered with the Ministry of Culture to hold the showcase, came with the message, "Dance is inspirational. Dance is joy. Dance is life. Dance is love. Dance is for all ages, shapes and sizes. Enroll in a dance group today."
Chief Cultural Officer Anthony Theobalds told them that the show they were about to see was the culmination of a lot of hard work.
"What happens here this evening is the culmination of many weeks, and in cases when we talk about the seniors, years of involvement. We do not get to this night and this two hours, in magic. It is in sweat that we get here," Theobalds said.
Then the performances started and the first to take the stage bright in their costumes and enthusiasm was the La Gracia Dance Company with "Edu-tain."
With faces fixed in their determination to keep smiling, numerous dancers flew across the stage one by one, eager not to disappoint their routines.
Some told stories of loving the skin you're in, some of pain and grief, and some of different aspects of culture including the Union Island "Cake Dance" done at weddings and some of faith. Others simply brought a lively, up-beat atmosphere to the show.
While the showcase was not a competition, one little girl of the La Gracia dance group spoke with SEARCHLIGHT afterwards about her prize of happiness.
Gariesha Patterson said the night was excellent, and that when she was on stage she felt excited.
Patterson's group, who performed "Edu-tain," was split-up for different sections of the performance, and so the young dancer said that her favourite part of the performance was "when we all came together on the stage."
While dance had been called many things that night, to Patterson "Dance is like something it just lets you feel free and express yourself on stage."
The Choreographers were Maxine Browne, Claydonna Peters, Bridget John, Chelcia Phills, Shenice Wilson, the Cultural Conquerors, Diadem Dancers, Mandy Olliver, Elbert Duncan, and Colvin Hinds.
The dancers were from the Lowmans Leeward Anglican School, the CW Prescod school, Avenue Dancers, Rooted Methodist Ministry, La Gracia, Vincy Dance Ensemble, St Joseph's Convent, Kingstown Preparatory School, Renaissance Dance Company, Cultural Conquerors, and Diadem Dancers. Elbert Duncan, and Colvin Hinds participated as individuals.