Posted on
Six win disaster preparedness kits in Searchlight's competition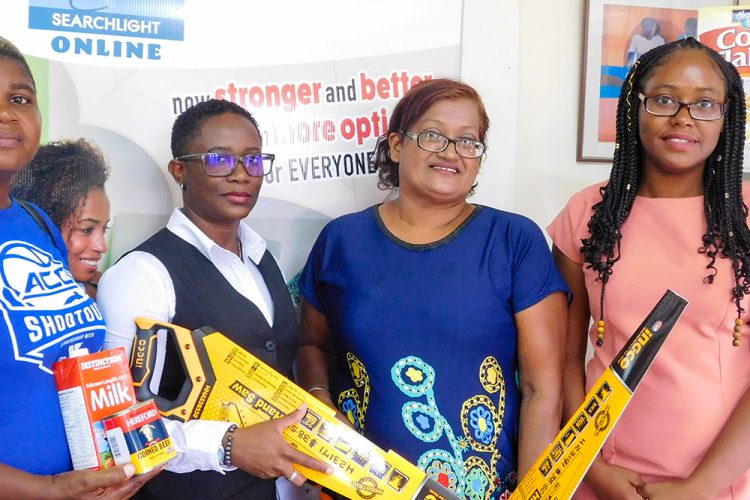 "Six persons are now better equipped to face natural disasters, having been chosen as winners in a competition to win Disaster Preparedness Kits hosted by SEARCHLIGHT.
The competition ran from August 21 to September 16 and winners were chosen in a draw this week and persons entered for a chance to win several prizes from ED Laynes & Co Ltd and CK Greaves & Co Ltd.
The promotion required that persons fill out a form in the weekend edition of the SEARCHLIGHT newspaper and submit it at the office, which is located in Paul's Avenue.
"SEARCHLIGHT's Win a Free Disaster Preparedness Kit Giveaway was held as part of the 2019 hurricane preparedness initiative to sensitise Vincentians on the importance of proper preparation to save lives in the event of a natural disaster," La Tanya Grant, SEARCHLIGHT's marketing and sales officer said.
This is the second time that the media house has hosted the competition. And Grant thanked both sponsors for coming on board as well as all persons who participated.
First prize winner, Helen Thomas said she almost forgot to submit her forms this year.
Thomas said that she remembered the promotion from the last time it happened and she wanted to be sure that she did not miss a chance to enter.
Her prize was an Inco branded kit from ED Laynes & Co Ltd which included an ax, hammers, harnesses and water boots.
And Thomas thanked the sponsors of the promotion for their generosity.
"It's the hurricane season, and in the event that something happens, we have to be prepared," said second prize winner, Danielle Ronelle Isaacs.
Isaacs also received an Inco branded kit from ED Laynes & Co Ltd.
Nelica Roberts is the third prize winner and she receives a food hamper from CK Greaves & Co Ltd, stocked with canned items, crackers, milk, corn flakes and several other goods that may be necessary in times of natural disaster.
Fourth place winner, Diana Scrubb was also present this week to collect her prize; a food hamper from CK Greaves & Co Ltd.
She said that promotions like these "takes away some of the expense" of preparing for natural disasters.
Donald Thomas and Jozel Lewis won fifth and sixth place prizes respectively.