Posted on
101-year-old woman honoured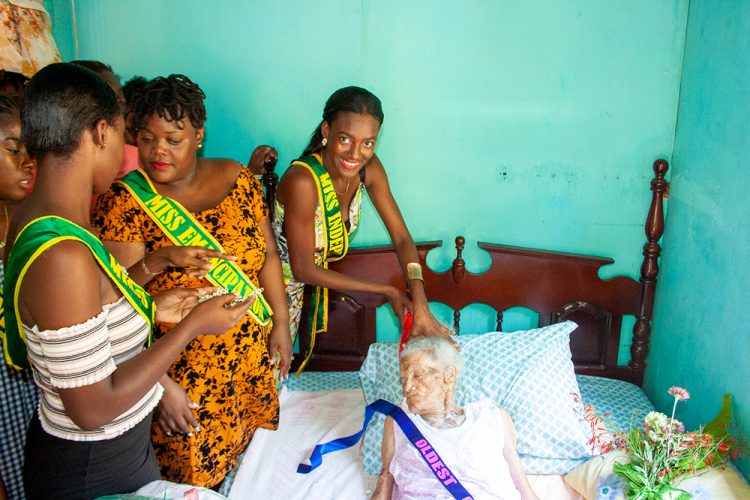 The "Oldest Queen" of Layou was crowned this week when contestants from the upcoming Miss Young Mothers pageant paid the 101-year-old woman at her home to bestow the accolade.
The six contestants visited Effie "Baby Din Din" Hazelwood on Wednesday and spent some time with her, after hearing that she fell off her bed recently and broke her leg.
"We decided to visit the oldest lady in Layou. She's 101 years old. We wanted to make her feel good and appreciated," coordinator of the pageant, Joeana Christopher told SEARCHLIGHT this week."We prayed with her and sang with her. It was really a blessing to be there with her."
Hazelwood herself first became a mother at an early age, going on to have a total of 16 children, several grandchildren and great grandchildren. The contestants presented her with a gift basket and a floral arrangement.
In addition to crowning and sashing the centenarian, the contestants also visited shut ins and interacted with people within the community.
The pageant coordinator said the community outreach demonstrated the theme for this year's pageant, which is "Let's show each other love".
Contestants in this year's Miss Young Mothers pageant are: Nadia Delpleche, Miss Carnival; Noveecha Toney, Miss Emancipation Day; Cherise Toney, Miss Heroes Day; Felicia Jack, Miss Independence; Geronicia Grant, Miss Christmas and Juneil Alexander, Miss Easterval.
The pageant will be held at the Layou hardcourt on October 25.