Posted on
Six Vincentians receive White Coats in Trinity's Medical Class of 2023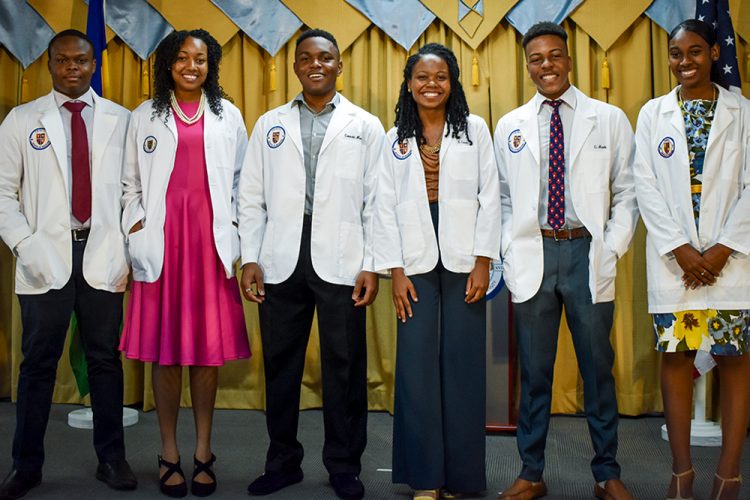 Six Vincentians were among the students who received their short white coats at the White Coat Ceremony of the Trinity Medical Sciences University's Class of 2023.
Akil Augustus, Carmold Murray, Geran Maule, Faustine Grant, Halle Jackson and Sharece Antrobus received their coats on September 7 at a ceremony held at the Faith Temple Church at New Montrose.
Each of the six, with the exception of Faustine, was educated here in St Vincent and the Grenadines. Faustine, who grew up in Kingstown Park and Sion Hill, went to Petersville School then migrated to Toronto and continued her education. The other five students attended the SVG Community College Division of Arts, Sciences and General Studies; with Sharece, Akil and Geran receiving national scholarships; and Carmold receiving a bursary.
Each student recalled always having a passion for medicine. Faustine remarked, "I've been looking forward to this since Day One, but now that I'm finally here, reality is sinking in." She looks forward to the hands-on experience at Milton Cato Memorial Hospital and is eager to collaborate with the World Pediatric Project to gain some global experience.
Son of Michael and Sandra Augustus, Akil promises to enjoy the diversity among the student body and is quite happy that his friends Geran and Carmold are along on the journey also. "Pre-med helped me to prepare for the studying life," he said, "I now know that tests could come right after each other and I have learned how to keep my head focused and to balance my work, so I am looking forward to it."
Geran is the son of Monty and Roslyn Maule. He admitted to liking the prestige of medicine but later found a passion to know how and why stuff works. "I want to help people and make them feel better," he said confidently, "Now I am very excited to be in class with these different people from all across the world. These are the book years so I'm looking forward to active learning."
Carmold, the son of Reynold and Camella Murray, said he had researched Trinity and realized it was a good school; his friends were going as well and it was comfortable for him to study within St Vincent and the Grenadines. "Pre-med called for discipline to get the work done," he explained, "but even more of this is required in medical school and I think I'll need to carry myself a bit further as it will be valuable in increasing my overall level of success."
Sharece, daughter of AnnMarie Jeffrey and Andre Antrobus, believes that college prepared her with great background studies and now she is excited to move on to the medical programme. "I know with hard work I will do great," she stated, "I developed great discipline and commitment in pre-med and I expect medical school will be more difficult but I'm prepared to give more in the medical programme."
Halle is the daughter of Owen and Lydia Jackson. She recalled receiving a dissection kit as a child which thoroughly intrigued her. Then, being diagnosed with bacterial meningitis in secondary school, her recovery became further motivation for pursuing medicine. For her, pre-med was a good experience. She stated, "Pre-med was a wonderful experience but it was not easy: nothing good comes easy! I know medical school is going to be extremely challenging but the work will be done."