Posted on
CTAWU and Scotiabank finalising talks over payment for overtime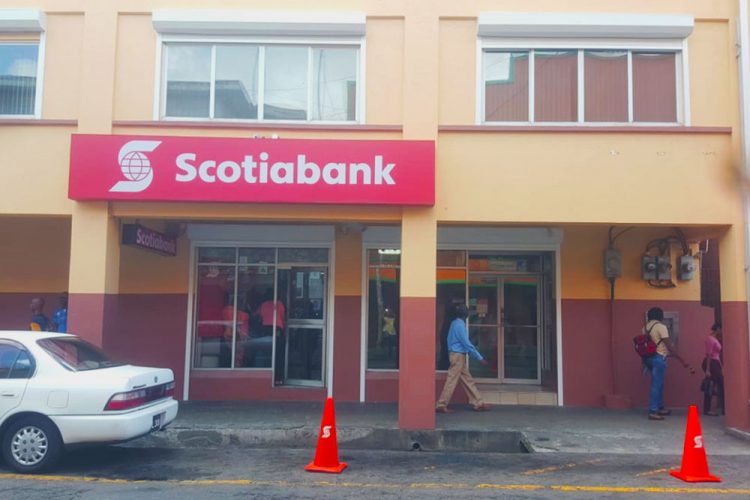 The Commercial Technical and Allied Workers Union (CTAWU) and the Bank of Nova Scotia are finalizing talks that are expected to see workers who are owed overtime payments receiving their money.
On September 23 and 24 several members of staff of the Halifax Street bank phoned in sick, leaving the bank with a skeleton staff after it became uncertain that staffers would receive their overtime payments, owed for work as far back as 2008.
The push for the money comes as Scotiabank's operations here have been sold to Republic Financial Holdings Limited (RFHL), the owners of Republic Bank, and RFHL has indicated to the CTAWU that they would not be taking over the liabilities of Scotiabank.
Explaining the overtime issues, General Secretary of the CTAWU Joseph "Burns" Bonadie said the Wages Council Act of 2008 (revised in 2017) speaks of working hours for employees. The Act puts work hours at eight hours per day with one of those hours being for lunch.
But, in relation to Scotiabank, workers were working nine hours daily, inclusive of the one-hour lunch. That means that as far back as 2008, employees of the institution are owed at least one hour of overtime per day. However, initially the bank argued that the Wages Council Act of 2008 did not apply to banks.
"So, there was a question whether the order applied to banks or not, but we agreed with Scotiabank that it applied, but now Scotia is leaving and we had also agreed that prior to their exiting we will deal with that issue," said Bonadie who added that initially, Scotiabank had said they would hand over operations fully to RFHL at the end of October, but they have now pushed up the handover to the end of September.
"So that is the problem. We are claiming retroactive pay from when the wage order came in (2008).
"The discussions we are having now had to be advanced because the head office in the region indicated to the union that they were exiting the country once they received the certification from the Central Bank (ECCB).
"That was supposed to be on the 31st of October so because of the fact that they got the go ahead from the Central Bank and the government of St Vincent and so on, they were ready to exit around July, but now they are exiting at the end of this month," commented Bonadie.
He said Scotiabank has agreed to pay, but after they moved up the exit date from October 31 to the end of this month, it brought anxiety to the staff as some of them are owed a lot of money.
"Not that they wouldn't get paid, but the other bank (RFHL) had already indicated to us that they are not taking over any liabilities because we met with them.
"They (Scotiabank) said that it does not matter if they exit, they will still pay, but I said 'No, pay before you go'," stressed Bonadie.
He added that on Wednesday and Thursday, he had very cordial exchanges and discussions and Scotiabank has received a new mandate from their bosses.
Bonadie also noted that he does not know anything about a sick out earlier this week, but he knows that many of the staff members called in sick.
"Some employees who just started working there did not go along with the older employees, but we are finishing and passing that hurdle," said Bonadie.
He added also that personnel from Republic Bank are in the country familiarizing themselves with the operations.