Posted on
2nd Light A Candle for SVG Vigil Echoes A Call For Righteousness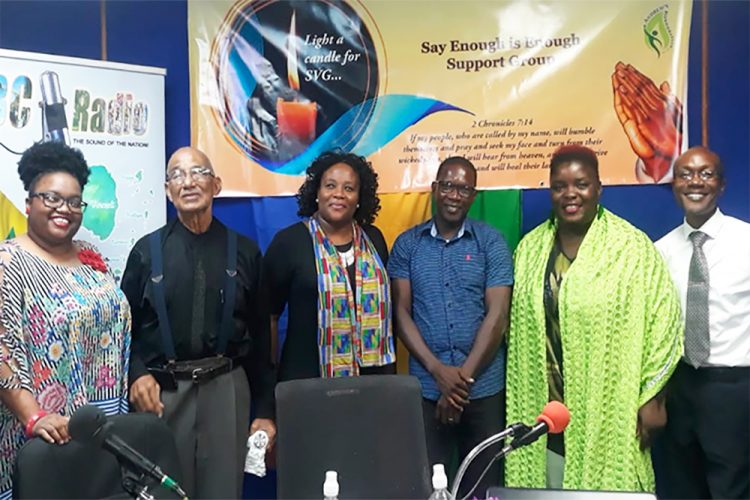 The second "Light A Candle for SVG Prayer and Candlelight Vigil" hosted by Say Enough is Enough Support Group has been hailed a success. The event was held on NBC Radio under the theme "Righteousness exalts a nation, but sin is a reproach to any people".
Javelle Frank, co-ordinator of the Say Enough is Enough Support Group said the main objective was to bring the nation together in prayer.
"This year's vigil was very unique in many ways. Our panel of God's servants came from different religious backgrounds to intercede on behalf of Saint Vincent and the Grenadines, and by extension the people of Bahamas. The vigil is an initiative of love, hope and support for all by offering up prayers on behalf of this nation with all its favours and faults before GOD through confession and repentance. Our aim was to bring our nation together in prayer with the hope that GOD continues to work in our midst".
The Light a Candle for SVG prayer and Candlelight Vigil included a panel of intercessors from various religious denominations; Minister Caywama Edwards (Kingdom Life Ministries, Keartons), Pastor Douglas Neverson (Kingstown Evangelical Church), Evangelist Zonnel Wilkinson (Church of God of Prophecy Belair/Peruvian Vale), Evangelist Benny Philips (Diamond Deliverance Assembly) and Pastor Terence Haynes (SVG Seventh Day Adventists Mission).
"This year, our esteemed panel of intercessors prayed earnestly for the Church, Government, Opposition, Educators, Students, Media Houses, Judiciary System and the Family. Our Nation's Youth, Children, Health, Finance and Economy were some of the other areas covered during last Sunday's vigil," Frank said.
Evangelist Benny Phillips, one of the intercessors, delivered the exhortation. The Evangelist made an urgent call for righteousness to be restored in our land. "We can only know righteousness when we know God, because God is righteous. If we do not know God, we do not know righteousness. There is an urgent need to restore righteousness back into our country. It is time for us to uphold the Gospel of Jesus Christ. Let righteousness reign and let sin be eradicated. The people who know their God shall do great exploits. When the righteous reign the nation rejoices, but when the wicked reign, there will be mourning".
"Sin must not stand out more than righteousness. We need to approach God with a repentant heart, now more than ever. We must turn away from the ways that displeases God and repent. Let us all uphold moral standards, starting in our homes; fathers need to be good examples to their sons and mothers, good examples to their daughters." Phillips said.
The prayer vigil, which originated at NBC radio, was also carried live on Star FM, Praise FM, Christlike Radio SVG, Divine Gospel Radio and Old School FM 784. Members of the public also offered up prayers for the people of Bahamas and Saint Vincent and the Grenadines.
SAY Enough is Enough Support Group is an empowerment group, non-political in nature and comprised of women and girls from varying backgrounds who were once broken by the many travails of life.