Posted on
Triplets take top spots in Searchlight Back to School photo challenge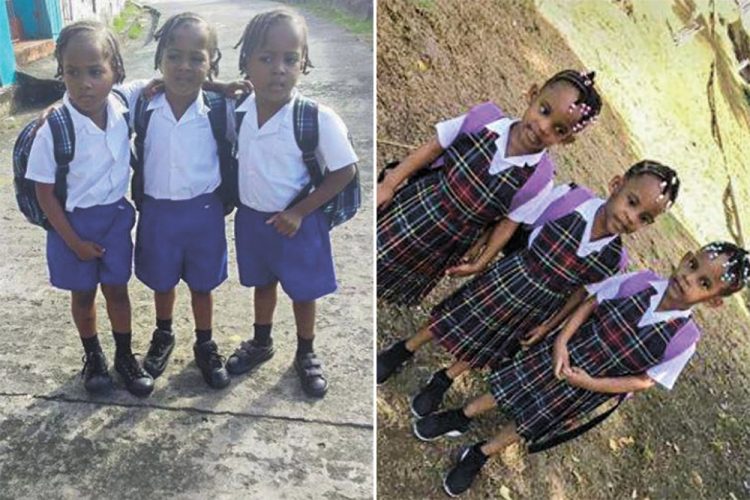 Two sets of triplets are among the four winners of the SEARCHLIGHT Back to School photo challenge.
The photo challenge began on September 2 and ended on September 10 at midnight. Participants were required to send in a funny, cute or interesting photo of their child on the first day of school, along with a caption.
These photos were posted to the SEARCHLIGHT Facebook page where the ones with the most likes would receive a prize.
And the top four photos were able to garner thousands of likes on the social media platform.
First place went to a photo of triplet boys, Andre, Andrew and Andel, which was submitted by their mom, Shevern Roberts.
"They're very active, they're independent and full of trouble," Roberts said jokingly of her sons, two of which are identical.
In the photo submitted, the three-year-olds, who were born on November 1, 2015, were all dressed for their first day at the Fairhall Early Childhood Centre.
The three boys' photo managed to earn over 3,000 likes on Facebook. And they won three dental examinations and cleanings compliments Accent Dental SVG, children's books from Jujube bookstore and a one-year e-subscription to SEARCHLIGHT newspaper.
And Roberts said that when she told them that they had won a prize, they were very excited.
At a glance, it may be hard to tell the three apart as they have the same hairstyle and identical outfits, except for the shoes which their mom said is to help their teachers to tell them apart.
"They went to school and they were in the wrong class for three days," she said. "I gave them different shoes…they always want the same hairstyle and I always have to buy the same of everything, because if I buy a red one for this one, a blue, a green, they will say, no I want this one or I want that one, so to save the confusion, I just buy three the same."
Coming in second place with approximately 1,700 likes is another set of triplets, who were born just three month before the boys.
The photo of these triplet girls, Faith, Grace and Hope were submitted by mother Alicia Poyer.
"My mom is actually who named them because when I was actually making them, crying and so on…she would say have faith, you will get through. Then she would say 'By God's Grace' and she would use those words and the three names just came together," Poyer said.
Her daughters were born on August 11, 2015 and the trio attend the Auntie Nicole Pre-school.
Their prize consisted of Three cases of 100% Natural Chupi Fruit box drinks compliments Food Centre SVG, children's books from Jujube bookstore and a one-year e-subscription to SEARCHLIGHT newspaper.
Poyer said that she doesn't think her girls are identical, but many people have difficulty telling them apart.
She also said that her four-year-olds like to do everything together and they are very active children who are full of energy and very intelligent as well.
Third place went to Raneisha Bowens, who submitted a photo of her 8-month-old daughter donning an all-white physical education outfit accessorised by a silver unicorn backpack.
This photo received 1,400 likes, earning her children books from Jujube bookstore and a one-year e-subscription to SEARCHLIGHT newspaper.
Coming in fourth with 1,200 likes is Sacha Bullock, with a photo of her four-year-old daughter leaning up to give her grandfather a quick kiss before heading off to her first day at the Argyle Roman Catholic School.
"She is the only grandchild that grew up in the same house with him so they're kind of attached," Bullock explained.
She said her daughter, whose name is Kaelyn, finds it funny to sometimes ignore and run away from her grandfather when he calls for her to sit with him.
Kaelyn's photo was rewarded with children books from Jujube bookstore and a one-year e-subscription to SEARCHLIGHT newspaper.
La Tanya Grant, the marketing and sales officer handed over the prizes to parents at the SEARCHLIGHT office yesterday. She said that the company was "quite grateful for the support that each and every individual gave to us by posting photos, liking photos and sharing and it's quite interesting that we got two sets of triplets to take part…"
Grant also thanked sponsors for being a part of the competition and providing the prizes to the winners.