Posted on
Veteran Pastor Celebrates Fifty Years of Ministry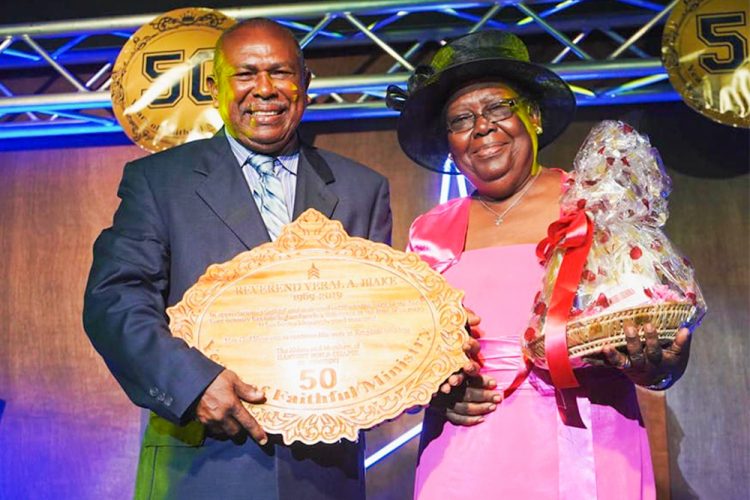 A Special Church Service was held on Sunday September 1 at Harvest Bible Chapel Arnos Vale to mark 50 years in Ministry for Pastor Veral Blake.
The event, which was attended by a number of senior members of the Christian community in St Vincent and the Grenadines (SVG) was themed 'Fifty Years of Faithfulness, Dedication and Servanthood'.
Pastor Blake began pastoral ministry at the tender age of 19 at the Emmanuel Baptist Church South Rivers in 1969 shortly after graduating from Bible College in Jamaica.
From 1975 to 1980 he migrated to Dominica where he was involved in Missionary Service, first with the Gospel Missions and then with Independent Baptist.
In 1980 Pastor Blake became associated with Ambassadors for Christ International and returned to St Vincent and the Grenadines and started the Ambassadors for Christ Ministries and was appointed National Director, a position which he still holds.
In 1982, he launched 'The Children's Radio Bible Club' program on NBC Radio, which has lasted for over 30 years and the Ambassadors for Christ Radio Broadcast which is still heard on several radio stations in St Vincent & The Grenadines and the Caribbean.
Pastor Blake also hosts a weekly religious commentary on WEFM on Mondays called "Viewpoint" and a daily devotional on the same station known as "Morning Meditations.
Pastor Blake currently serves as an Elder at Harvest Bible Chapel Arnos Vale.