Posted on
Trinity School of Medicine honours former Governor General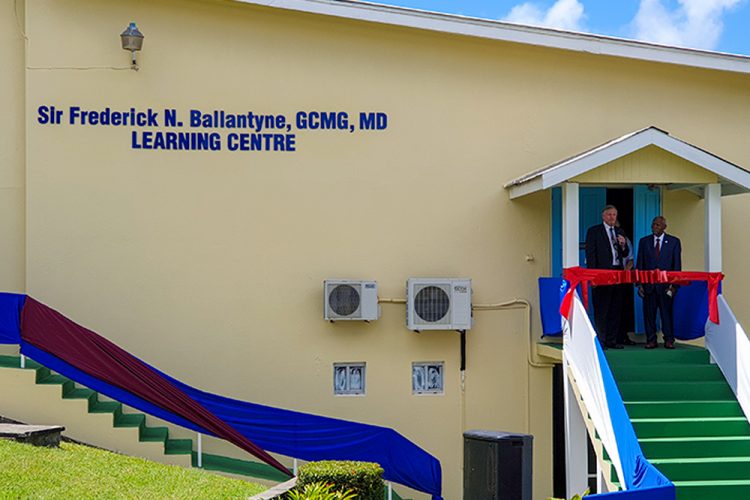 The contribution of former Governor General Sir Frederick Ballantyne to the Trinity School of Medicine has seen the university naming one of their learning centres after him.
Earlier this week, persons gathered at the University campus at Ratho Mill where the Sir Frederick N. Ballantyne, GCMG, MD Learning Centre was officially opened during a ribbon cutting ceremony.
The school said that Sir Frederick's invaluable insight, leadership and encouragement were instrumental in bringing Trinity School of Medicine to St Vincent and the Grenadines (SVG).
"His stabilizing and calming presence strengthened the school academically and financially, creating a safe and comfortable living and study environment for its students," President of Trinity Medical Sciences University Dr Steven Wilson said at the dedication ceremony on Monday, September 9.
It was also noted that Sir Frederick's efforts shaped the university, facilitated its growth and accelerated its maturation to an excellent university.
"It is blessed to have him as an enduring member of the Trinity family. This learning centre receives his name so all who enter will remember him and his invaluable contributions," Wilson, also one of the founders of Trinity said.
Wilson further described Sir Frederick as an extraordinary person and the one who was instrumental in getting the university to set up shop here when they were looking for a base in the Caribbean in January 2008. He said they were close to settling on the Bahamas and were starting negotiations on that island but were told by a partner, Dr Bill Clutter, that he had heard about an opportunity in SVG and the potential for a campus facility.
Wilson had never heard about SVG and when he Googled it, he was sceptical because of La Soufriere volcano but when he spoke to Sir Frederick Ballantyne, he was so impressed that he decided SVG was where Trinity needed to be.
"Over the past 11 and a half years that decision has proved to be a wise one and I have developed a friendship with Dr Ballantyne that I would cherish for all time," said Wilson who noted that he has seen first-hand, Sir Frederick's total commitment to the people of SVG.
"He loves these islands and everyone on it and I wish every Vincentian can see what I have experienced with him. They would be even more amazed," Wilson told the gathering which included Governor General Susan Dougan.
He said that learning centre is one of the best ways to honour Sir Frederick as he epitomizes the life-long learning of the institution.
In response, Sir Frederick said a school or university does not prosper because of an individual or group so that is why he shows humility. "We have succeeded because of the faculty, many of whom are here, and we thank you sincerely," said Sir Frederick who noted that Trinity started with 18 students and now caters to well over 500.
He said the school has had struggles to the point that they thought they would close, but he always remained optimistic and tried to convince all those involved they would overcome the difficulties.
"This for me is a very special hour not because of my involvement personally with Trinity but because I always believe that if you can train physicians knowing that every physician in his lifetime would see about 100,000 patients and if you can train those physicians then you can make the most significant impact on health care for your country and for the entire world," said Sir Frederick.
This is the second time that Sir Frederick has been honoured by a medical school as in 2013, SUNY Upstate Medical University, the school from which he graduated honoured him as a humanitarian because the members of his class thought that he had done a lot for humanity.
The ceremony also heard remarks from Trinity's Dr Brian Clare, Dr Donna Browne and Dr Kent Rollins.