Posted on
CBA honours cultural icons with challenge trophies in their names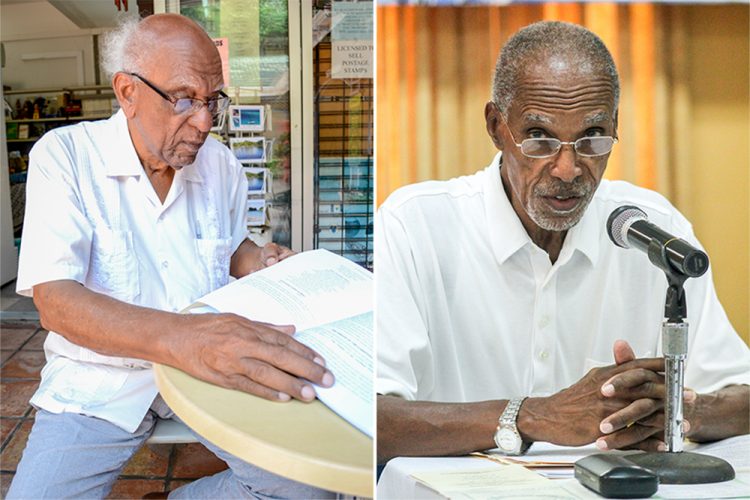 The Carnival Bands Association (CBA) with the blessing of the Carnival Development Corporation (CDC) this year recognised two cultural icons by issuing challenge trophies in their names.
The men, former Minister of Culture John Horne and author and historian Dr Edgar Adams were recognised posthumously, at the CDC's 2019 prize giving ceremony, which was held at the Murray's Heights hotel on September 3.
The winner of the 2019 Sections of the Bands competition, Imagination Mas Band's section "Angel of the Morning" under their production "Watch Out for This" received the John Horne Challenge Trophy.
The winner of the 2019 Individual of the Year competition, Jenilee Glasgow, with her portrayal of SVG Players International Mas Band's "Wonders of Nature" received the Dr Edgar Adams Challenge Trophy.
The John Horne Challenge Trophy was handed over to the Imagination Mas Band by Oneka Morgan as no one from Horne's family was present, while the Dr Edgar Adams Challenge Trophy was handed over by Adams's son, Chairman of the CDC Ricky Adams.
Chief Executive Officer of the CDC Ashford Wood, commenting at the ceremony, described the men as great cultural and Carnival icons.
In the citation, read by Head of the Beauty Shows Committee (BSC) Laferne Fraser, Horne was described as an iconic band leader of the Bridge Boys Mas Band from the late 1950s to the 1970s.
The Bridge Boys Mas Band won the first Band of the Year title in 1963 with "A portrait of ancient Egypt" and Horne played a leading role.
It was also revealed that in 1966, Horne brought to the Victoria Park "Journey through the Orient", a presentation that Fraser said is one of the greatest presentations of its kind in the history of the masquerade artform in St Vincent and the Grenadines (SVG).
It was noted that Horne insisted on producing authentic costumes in each section and this was a noted feature of Journey through the Orient".
During Adams's citation, Fraser said the deceased veteran mas man is the only known masquerader to have made two portrayals using the same costume.
In 1967 as part of Denise Marshall's presentation "Fun and Games", Adams portrayed "An Ace in the Hole" and "A Hole in the Ace", a single costume, and won both the individual fancy and original categories of the Individual of the Band competition.
Adams was a dance choreographer and during his time on the masquerade scene, was responsible for the theatrical aspect of presentations made on stage by masquerade bands including the highly acclaimed "Mighty River States of Ancient Times", produced by Winston "Samo Samuel" after whom the Band of the Year title is now named.
This week, head of the CBA Hugh Ragguette said the Edgar Adams Challenge Trophy and The John Horne Challenge Trophy were one off dedications but Adams (the Chairman of the CDC) said the CDC is open to making the trophies an annual gesture.