Posted on
Vincentian Ranger Guides qualify for Gold Award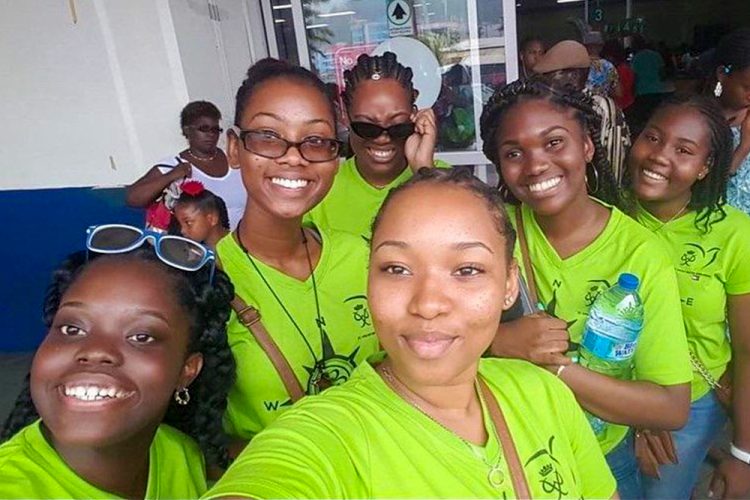 "Patience and perseverance have a magical effect before which difficulties disappear and obstacles vanish."
– John Quincy Adams
Four days, three nights, 50 miles of hiking, sleeping in tents, outdoor cooking and navigation of the forest were a few of the challenges that nine Ranger Guides from St Vincent and the Grenadines (SVG) had to overcome, as they sought to complete the Gold Award of the Duke of Edinburgh's Programme in Saint Lucia last month.
The Ranger Guides from the Girl Guides Association of SVG participated along with Scouts, Cadets and independent participants from SVG from July 27 to August 11, 2019. Doing the Award is a personal challenge that required preparatory training, team building and planning as participants were from nine other Caribbean islands including Antigua and Barbuda, The Bahamas, Barbados, Cayman Islands, Dominica, Grenada, Jamaica, Saint Lucia and Trinidad and Tobago.
Together, the participants from SVG along with participants from other countries formed teams and hiked steep terrain, mountainsides, went through hills and valleys, navigated the landscape and seascape and even conquered the famous Pitons. They endured the sweat of their journeys, trials of walking to the pace of the slowest person, testing of their map and compass skills on old maps and of course their survival skills in the forest. It came with many highs and lows but they were able to surmount all challenges. They were able to build on teamwork and leadership skills as well as how to cope with different personalities. The girls were also able to explore the island through activities such as treasure hunts and hikes. Many built tolerance and patience while others became aware of their physical abilities. 
All nine Ranger Guides returned to SVG thrilled to have accomplished what they set out to do. Rayana Patrick, one of the Ranger Guides who is in pursuit of becoming a Guider, daily encouraged the Ranger Guides to "focus on overcoming the matter at hand". Patrick highlighted that even though the journey was challenging physically and mentally, often times, incorporating the values that were instilled in Girl Guiding such as "doing your best" and "having courage to face challenges while being cheerful" came into play.
In the Duke of Edinburgh Programme, participants are expected to complete four sections: Service, Physical Activity, Skill and Adventurous Journey at the Bronze, Silver and Gold Levels. At each level, each section must be done for a specified period of time. However, the Ranger Guides were able to enter at the Gold Level without completing the Bronze and Silver Award Levels, having fulfilled the requirements to be eligible for Gold Level qualifications. At the Gold level, the Ranger Guides also completed a Residential Project in Saint Lucia.
The Girl Guide programme dovetails with the Duke of Edinburgh Award Programme and all members of the Girl Guides Association who are aged 14 years and older are encouraged to register. Girl Guiding is open to all girls and young women whatever their religion, ethnic group or background. A Girl Guide or Girl Scout accepts the Promise and the Law based on spiritual values, personal development and commitment to helping others. The Girl Guide movement supports girls and young women in developing their full potential as leaders and active citizens of the world. Ajadah McLean, one of the ranger guides, urged all young girls to get involved in Girl Guiding as she sees it as an opportunity for them not only to develop themselves as leaders, but also to form lifelong friendships with other participants.