Posted on
Policyholders of BAICO and CLICO invited to join lawsuit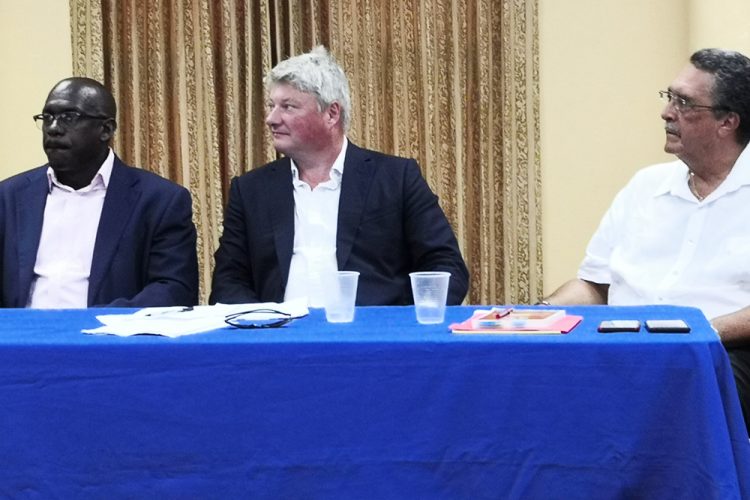 Policyholders of BAICO and CLICO in St Vincent and the Grenadines (SVG) have been invited to join other citizens of the Eastern Caribbean in legal action which seeks to fully recover the policyholders' investments.
At a meeting hosted on Wednesday, September 4 by British American and CLICO Policy Holders (BACOL), president of BACOL Dr Patrick Antoine said the group was formed out of the frustrations of policyholders.
He said through the work of the BAICO judicial manager, policyholders can only expect to recover, at most, 25 cents out of every dollar invested.
The BACOL group, Antoine said, has been working on this case for five and a half years and is going after the remaining 75 cents, plus interest, with the hope that policyholders recover close to 100% of their investments.
Former Prime Minister of St Lucia, Dr Kenny Anthony, a member of BACOL's high powered team said the legal action will be brought against the Government of Trinidad and Tobago, who they contend acted in a discriminatory manner against the citizens of the Eastern Caribbean. This refers specifically to the rate of settlement paid to policyholders of the Eastern Caribbean which amounted to significantly less than that paid to policy holders in Trinidad and Tobago. Arguments will be based on the Revised Treaty of Chaguaramas, which is why the case will be heard before the Caribbean Court of Justice, Anthony said.
Queen's Counsel Simon Davenport, Head of 3 Hare Court Chambers in London, England is also a member of the legal team. He is a group litigation expert and said policyholders should join the action, which he said will begin in another month or so. He said the Government of Trinidad and Tobago has already been served with a pre-action letter and he envisages that arguments in the matter will be made around February or March, 2020.
Wednesday's meeting was attended by approximately 50 persons who sought clarification on whether the class action would seek redress for policyholders in CLICO International Life (CIL) headquartered in Barbados; for those with pension plans; beneficiaries of death benefit plans, among others. Antoine promised to respond to these questions in a few weeks' time.
The approximate cost of membership and administrative fees to participate in the legal action were also discussed.
Also present at Wednesday's meeting, which was held at the Methodist Church Hall in Kingstown, was Brian Glasgow, Judicial Manager of British American Insurance Company (SVG) Ltd.
Glasgow said while he is not part of BACOL, he appreciates their work.
He said that payments in the September 2019 BAICO settlements are well underway, but less than half of the people who are entitled to payments have been turning up to collect their money.
To date approximately 30% of the settlement value allocated to the SVG jurisdiction has been paid out.
Policyholders who have not yet received payments are encouraged to collect cheques or make alternative arrangements for payment as soon as possible.
Glasgow advised that settlements of 4% of investment or deposit values are being made in this distribution.
"As at this point, we are now able to offer policyholders a total of 14% of their policy value," he said.
The Judicial Manager said that some policyholders may not be eligible for further payments but if they are not sure, they should seek further information from the offices of KPMG, First Floor, NIS Building, Kingstown.
BACOL was formed in Grenada in 2013 with the main objective of recovering policyholder's investments from the failed British American and CLICO Insurance Company, their subsidiaries and affiliates.
BACOL has since been extended to include membership from Antigua and Barbuda, Dominica, St. Kitts and Nevis and St. Vincent and the Grenadines, in addition to the original membership of Grenada.
BACOL, with a current membership of over 1000 is conducting a series of meetings throughout the Eastern Caribbean during the month of September, 2019.