Posted on
'Non-pensionable workers being forced into poverty'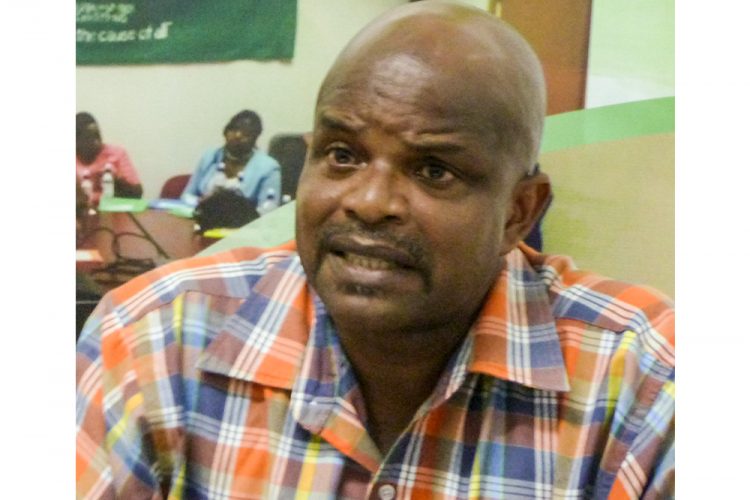 Non-pensionable public service workers are being forced into poverty after retiring at 60, and the "very draconian" measures embedded in the National Insurance Services (NIS) Act are making the situation worse.
President of the Public Service Union (PSU) Elroy Boucher, made these assertions during a press conference hosted by the Union at the Headquarters on Tuesday, September 3.
He lamented that, "As a Union we are being bombarded, constantly, by the non-pensionable officers who are expressing concern over their pensionable status. In fact many of them dread retiring."
With regard to the over 2000 non-pensionable workers that he referred to, the President further informed, "When [they] talk about retiring it is with apprehension, they are fearful… and the single reason for that is that they have heard the stories from their colleagues who have already retired that they are literally forced into poverty where the quality of their lives, their standard of living falls rapidly."
Boucher explained that the NIS allows as the pension between 30 to 60% of the worker's last salary, or the average of their salaries during the last five years that they were working. However, the President claimed that, in truth, workers do not receive more than 47 to 48% of their salary as a pension.
"That is simply because, when you do the calculations, for you to attain a 60% from NIS, you have to be working about 44 years," he disclosed.
"There's a general agreement among financial experts that most retirees need roughly 70 to 80% of their previous earnings in order to maintain their standard of living, to which they may have become accustomed," Boucher explained.
Further, he stated that although the current retirement age for the public service is 60 years, the NIS pensionable retirement age is 65 years.
For persons born after 1964, they have to wait five years for their NIS pension after retiring at 60, Boucher noted.
Despite this situation, the President says that the NIS enforced some "very draconian" measures within the Act when the reform was done in 2013.
"When they stated that for each year you take your pension early there's a penalty of 6% for each year," Boucher informed.
"It means that if the person who has to wait three years for their pension takes theirs early, that's 18% they're losing. And when you do the calculations, if they are forced to take their pensions, we are down to less than 20% of your salary," he summarized.
He added that persons end up taking their pension early because when they do retire they don't have any income at all because they don't have a public service pension.
Even for those that choose to "suffer" for the three to five year period which they must wait before they reach pensionable age for the NIS, they still cannot live comfortably after they finally receive their pension, he added.
"So they have nothing to rely on and with the difficult economic times that we are in, the thought that you can save for rainy days is not an applicable one because people are literally living from pay cheque to pay cheque," Boucher continued.
The President spoke about steps that the Grenadian and Montserrat governments have taken to address the issue. In Grenada, he said, that the Government declared the NIS to be woefully inadequate, and they vowed that no public officer, and especially no non-pensionable officer, would go home with less than 70% of their salary as a pension.
In order to do this, the President indicated, that the Government used a combination of a public service pension (although there had not been one in force before) and the NIS pension. The Montserrat Government took the same route.
Boucher stated that they are hoping through pension reform that they (the Union) would be able to get non-pensionable public service workers on the public service pension system.
However, in the meantime, the PSU is calling for the Government to reduce the penalties imposed from taking an early pension from the NIS.
"So instead of the 6% for every year, why not reduce it to 1%? Reduce it particularly for these people until the matter can be resolved once and for all…until you can ensure that all these workers do not face poverty upon retirement," the President commented.
I realize that the issue with pensions existed before, but the draconian measures within the law, the NIS Act, they were imposed by this Government," Boucher stated, calling on the Government to fulfill their United Nations (UN) Sustainable Goals which include reducing poverty.
For those workers, such as community health aides, auxiliary nurses and office attendants, "It is painful for them. The struggles and the uncertainty that they face upon retirement, it's quite frightening. Any caring government would do something just like what the Grenadian government did," the workers' union head posited.